This post is sponsored by DecoArt from which I received complementary products.
As always, all opinions are my own.
We took the kids to beach for the first time a few months ago and they had an absolute blast! Five days of just sun, sand and smiles. The only downside to visiting the beach is finding some way to memorialize all the souvenirs and pictures you come home with. With the help of DecoArt Glass Paint, I figured out a way preserve fun beach memories in a stylish and fun way!
Beach Memory Keepers
Materials:
Glass Frame
DecoArt Glass Paint
DecoArt Glass Marker
Mason Jar
DecoArt Stencil
Recycled Lid (I used a Parmesan Cheese lid for easy access)
Instructions:
1. Quotable Beach Photo Frame: Print the quote you want to paint on your glass frame. Don't forget to reverse it so that you can paint the words on the inside of the glass. Holding up to the light, position the quote in the proper location and mark.
2. Position glass within the marks and tape in place. Begin painting letters with the DecoArt Glass Marker.  After following the instructions found on back of the DecoArt packaging, reassemble frame with your favorite image from the beach!
3. Beach Treasure Jar: Tape a template to the inside of the jar to help guide you. Use the DecoArt Glass Paint Marker to label jar. Allow to dry completely before continuing on to step 4.
4. Use the DecoArt Gloss Enamels Stick-On Stencils to decorate the rest of the jar. I used their "Fun In the Sun" stencils and Frost Gloss Enamels Paint to add different colored sea shells.
5. Add a lid (a Parmesan cheese lid works great!) and you're ready to store all those beautiful seashells you kids picked up along the beach!
What are your big plans for the Summer? Planning on a trip to the beach? I hope you enjoyed these projects just as much as I enjoyed making them!
In case you're curious, Americana Glass Paints are available at Michaels, JoAnn Fabric and Craft Stores, Pat Catan's Craft Centers, A.C. Moore, Beverly's, and other fine craft retailers. For more information on Americana Glass Paints visit http://www.decoart.com/glasspaint. They're having a great deal right now where if you buy five bottles of Americana Glass Paint you can get a $5.00 rebate. Total score! Click for rebate details. OR….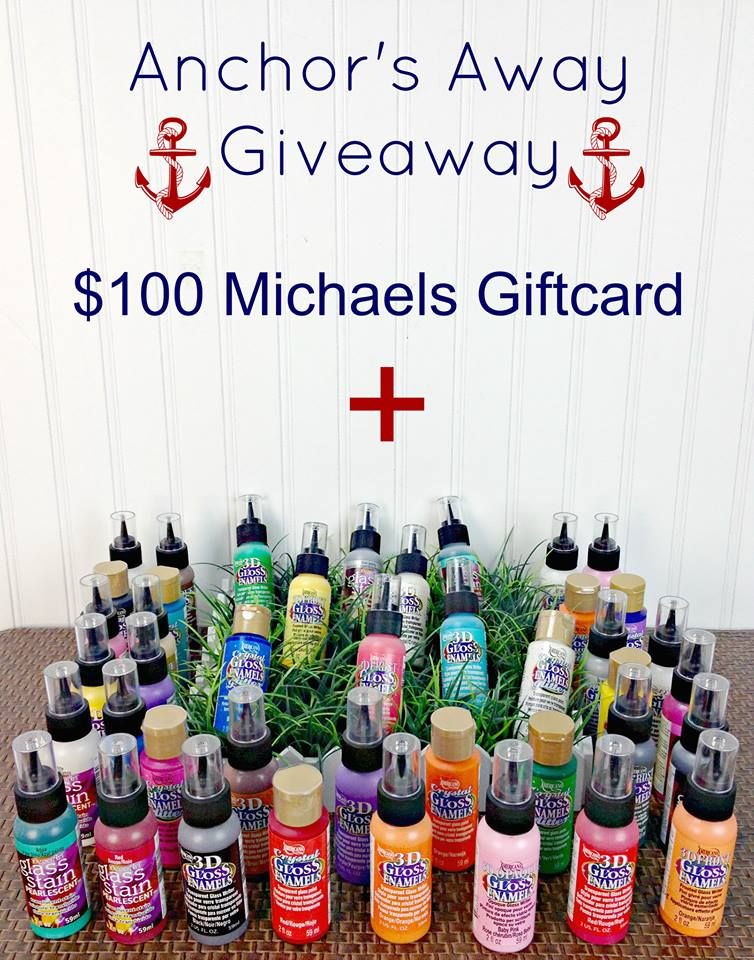 Enter below to win a $100 Michaels gift card plus $100 worth of DecoArt product! Just think of all the fun things you could make!