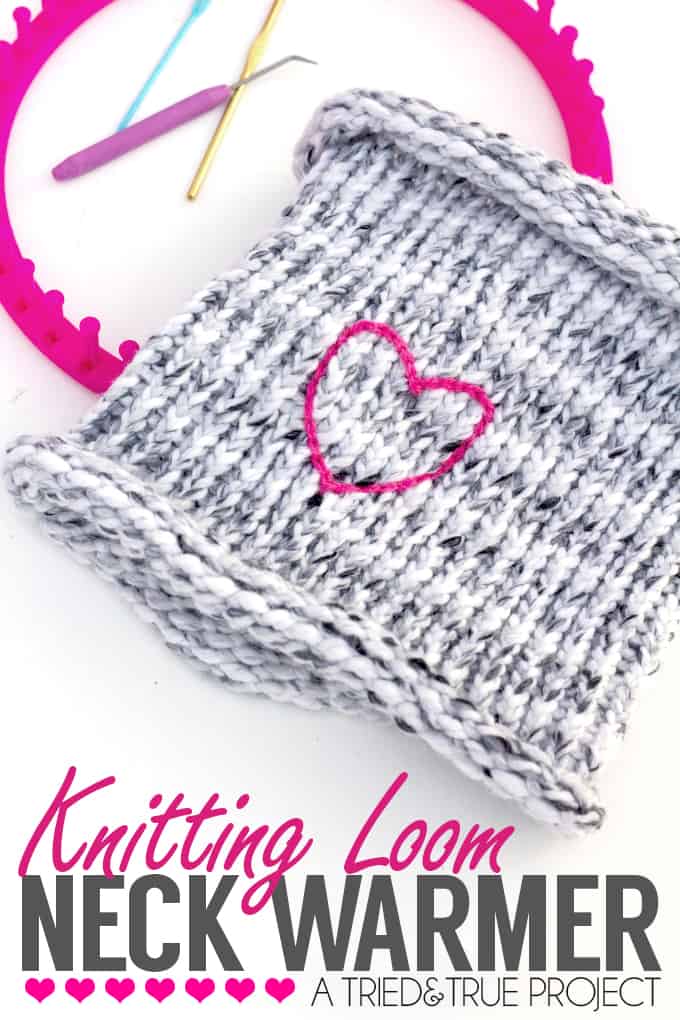 If you've followed this blog long enough, you know that I am absolutely terrible at knitting and crocheting. It never fails, I pick up some needles or a hook and I always pull the yarn too tight or drop stitches everywhere. The fiber arts and I just don't mix. Which is a total shame because I love the look of knitted accessories! What's a girl to do? (enter sad face emoticon here) 
This post was originally created for Crafts Unleashed. I received products and compensation in exchange.
Have no fear, the Knitting Loom is here! This nifty kit comes with everything you need to make hats, scarves, and even mittens. If you want to make a thick neck warmer like mine, all you'll need is some chunky yarn (I used Lion Brand® Wool-Ease® Thick & Quick® Wool Yarn in Marble) and a crochet hook if you want to embellish it with a heart.
To begin, follow the instructions included with the loom to make a basic neckwarmer shape. The package instructions were really good but if you need additional assistance, you can always search YouTube for "knitting loom" tutorials. There are tons to choose from!
If after you finish your neck warmer, you want to embellish the piece a bit, just grab some coordinating yarn and a crochet hook to add a little heart! I made a quick video to show you the easy process:
Super easy, right? Now you've got a great chunky neck warmer to keep you warm during the winter season! There are an endless amount of ways to customize this project by just changing out the color of yarn or adding different embellishments. I'm going to try an ombre effect on the next one I make!
Hope you enjoyed this project and as always, I'd love to see what you come up with so don't forget to post to the Tried & True Facebook Page or tag me on Instagram!
Find more fun projects on my Pinterest page: