Halloween is just around the corner, which means that it's time to get your game on! But before you go straight for the candy, why not try our free Halloween printable dice game. This game is perfect for kids and adults alike and can be played at home or in a classroom.
This game is fun and can help people get in the spirit of Halloween. Playing this Halloween game can give you a chance to just have some family time without having to focus on the sugar. If you're hosting children at your house, playing this game could be a good way to entertain them while reminding them that it's not just about candy.
This article will provide information about how to play this fun dice game as well as some suggestions on how to make it more difficult. We hope you enjoy playing our Halloween printable game!
Don't forget to check out the list of kid-themed free printables at the end of this post!
Why play a Halloween printable game?
This free printable Halloween game is really super easy to make and play! It can be played with preschool through early elementary. It might seem super easy for adults and older kids but the young ones will love it!
Playing games is also good for brain development. Games require us to be creative when working to solve problems, see patterns or figure out puzzles. This can help young children when it comes to developing their problem-solving skills in later life.
This game can help teach kids about early mathematical concepts. Considering the number they need to complete a web and taking turns with other players is definitely a step towards learning about number sense.
Playing games together is a great way to bond with your child and provide them with an opportunity for peer interaction with other kids in the class or at home. Games, like this Halloween Dice Game, that are easy to understand will make this possible even for younger children.
The best reason to play this Halloween printable game? Your kids or students will have FUN!
How to download Halloween Dice Game
If you're already a member of the Tried & True Creative Library, just log in to download! If you're not, then it's really easy to join. Just register with an email address in the box below. Membership is free and you can print as many times as you want.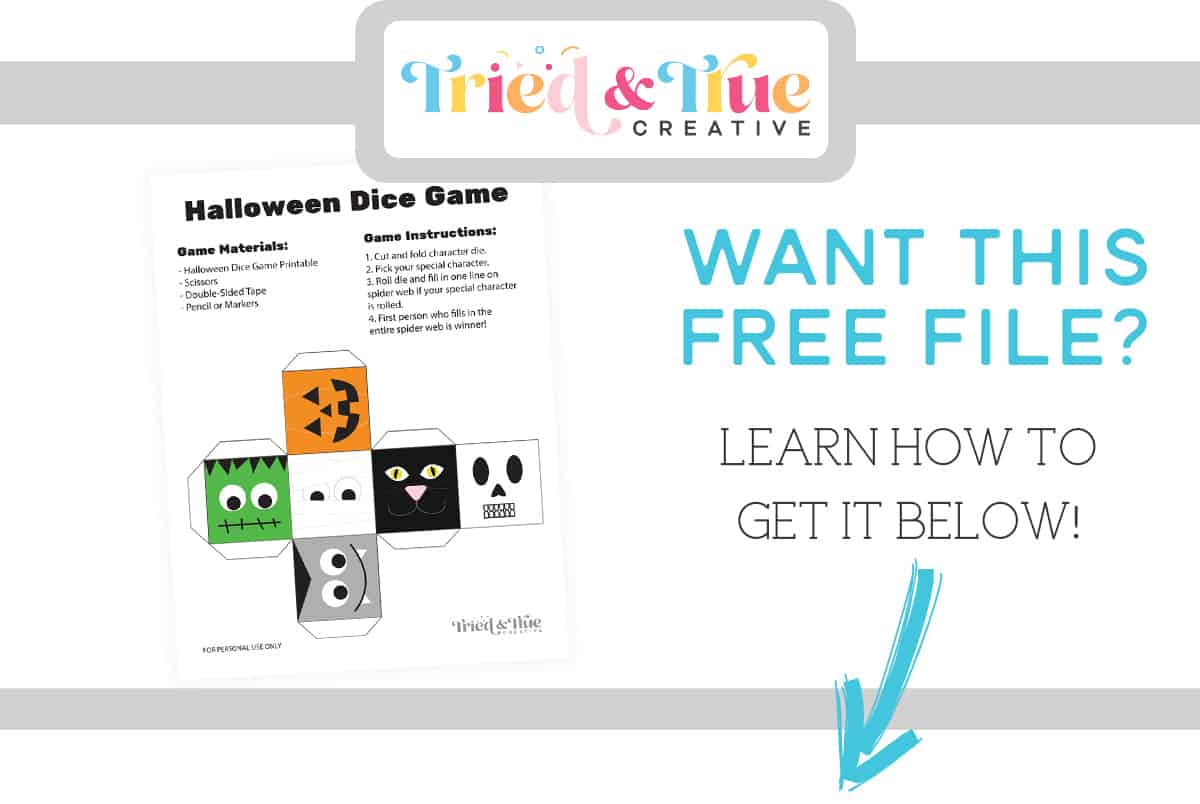 Instructions
Step One. To accommodate as many children as possible, you'll need to print off enough free printable Halloween Dice Game sheets for each of them. I really like the quality of this cardstock! Each of them doesn't have to roll the die (unless there are more than six kids) but they will all require a spider-web scorecard.
Step Two. Make the Halloween character die from cardstock by cutting, taping, and folding (helpful if you score the edges with a pen!) Depending on your child's age, this part may or may not need assistance. Give one scorekeeper spider web card to each child.
Step Three. To play, have each child pick a Halloween character as their own and then mark a line on the spider web every time that character is rolled. To be the winner, you must first complete the entire web. If there are six or fewer children playing, you may roll one die for the entire group. If you have more, let each kid make and roll their own die. The first one to roll enough of their character to fill the entire web wins.
That's all there is to it! We had a lot of fun picking our characters and played many rounds of this game in one sitting with my kids! Instead of printing out the scorecard, again and again, I had them make new lines slightly higher than the original ones. They ended up with a really intricate spider web!
Fun Halloween facts
– There are more than 31 million homes with pumpkins on their porch or front hall
– The world's most expensive pumpkin pie was auctioned for $22,000.
– More than 20 million fires are caused by fires starting from the use of candles during Halloween
– One dollar spent on Halloween candy will yield $4 in personal income to the economy
– More Halloween candy is consumed in a three day period than during any other time of the year
– Approximately 1 billion pounds of pumpkins are grown each year in the U.S.
– In 1905, a Halloween parade took place in New York City's Greenwich Village and it has been an annual tradition ever since
– The most popular Halloween costume for adults is a witch
More kid-themed free printables
I've partnered with some of my favorite bloggers to bring you even more kid-themed free printables! Just click on the links below to be taken to their sites to download the awesome printables.
With so much to do during the Halloween season, it's nice for families to take time out of their busy lives and play a game together. This printable Halloween dice game is a great way to do just that! Make your Halloween celebration even more enjoyable for all of you and print this Halloween printable game.
I hope that you have a fantastic Halloween season with your friends and family!
Want more fun projects?