Hi everyone, Vanessa here and I've got a special surprise for you today! Alexis from Persia Lou is here to share a super fun tutorial for making Marbled Sunglasses. She is one of my absolute favorite bloggers and I am constantly blown away at her tutorials and creativity. Seriously, she's amazing and I highly suggest you follow Persia Lou right this second!
Hey there! I'm Alexis, the crafter and blogger behind Persia Lou, and I am so excited to be guest posting on Tried & True today!
I have a simple and inexpensive crafty project for you all today. I have been wanting to try nail polish marbling for ages now, and when I was thinking about fun summery projects, I thought it would be a lot of fun to try it out on a pair of inexpensive sunglasses. And it was! I love the result, and am looking forward to more marbling projects in the future. Here's what you need to make your own DIY marbled sunglasses:
DIY Marbled Sunglasses
Materials:
Sunglasses (I picked mine up at the Dollar Store!)
Nail Polish
Water
Container for water (I used a disposable lasagna pan)
Thin Dowel Rods or Bamboo Skewers
Masking Tape
Craft Knife
Step One. Prepare your sunglasses by covering the lenses with masking tape. Layer pieces of tape over the lenses and then trim off the excess around the lenses using the craft knife.
Step Two. Repeat the process so the back sides of the lenses are covered as well. Now your glasses are all ready to marble!
I found that the marbling technique has a little bit of a learning curve, so I would recommend practicing on something else (I did a few plastic cups) before doing your glasses. I tried dollar store nail polish first and didn't have as much success as I did with the cheap drug store polish.
Step Three. Fill your container with water, and then drizzle nail polish on top of the water. If you want you can swirl the paint with your dowel, but you have to work quickly. Put the glasses face down into the paint, pushing the glasses under the water, and then lifting them out.
Step Four. Let the paint dry completely before touching it. Use a dowel rod to swirl up the leftover paint from the water.
Step Five. Then you can drizzle more paint on top of the water and dip the sides of the glasses.
Step Six. When the paint is completely dry, remove the tape from the lenses.
And, that's it! Some new fun marbled glasses ready to help you enjoy the sunny days ahead!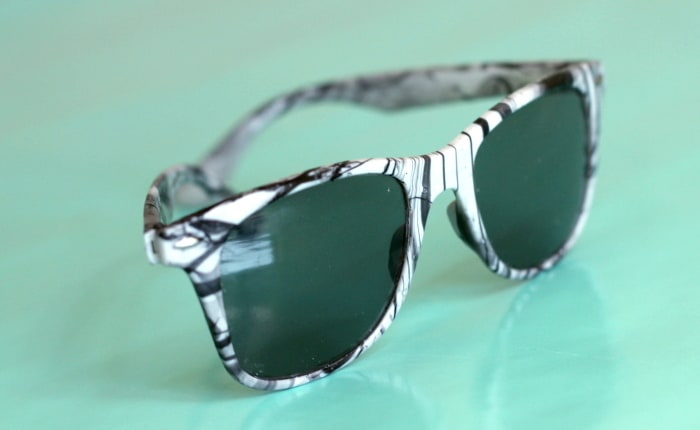 I would love if you came by Persia Lou to check out some of my other projects. You will find free crochet patterns, art projects, home decor ideas, and printables. Here are a few favorites to get you started:
How to Make Multi-Colored Foil Prints || Simple Slouch Hat Crochet Pattern || How to Paint Watercolor Agate Slices