Welcome to the first day of Dia de los Muertos (Day of the Dead) Week! Stop by each day for a new and exciting project to celebrate one of my favorite holidays. First up, how to make a super easy and kid-friendly Dia de los Muertos Calavera Mask to accompany any basic skeleton costume.
Dia de los Muertos Calavera Mask
Supplies:
White Paint
Black Paint Pen
Instructions:
1. Paint a layer of white paint on the paper mache mask. Repeat if necessary and allow to dry completely.
2. Begin applying foam pieces to mask. Feel free to cut up some of the flowers into hearts and leaf shapes. Depending on the age of your children, they can totally help out with this part!
3. Keep adding foam stickers until you're happy with the design or until your kid has covered every single bare space of the mask! Outline the teeth, eyes, and nose with a black paint pen to accentuate the holes.
To keep in place, you can either glue a popsicle stick to the back and have the child hold it or punch two holes into the side and add some elastic to go around their head. All you need now is a super cute and comfy skeleton costume…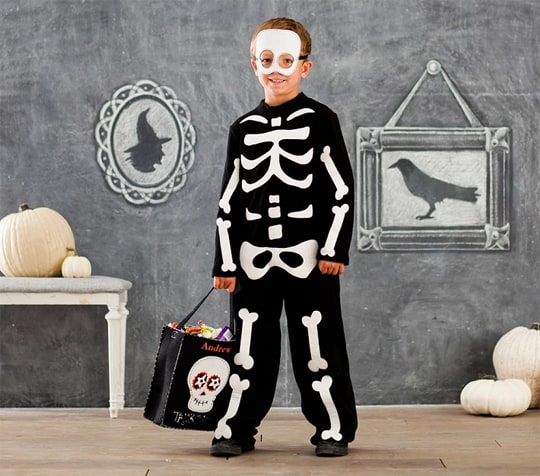 Now, all you need is a basic skeleton costume and your Dia de los Muertos Calavera Masks to make the costume complete!
Stop by tomorrow for another quick and easy way to celebrate Dia de los Muertos! I'll give you a hint…it'll make you shriek with joy. Or should I say "shrink?" 😀