The texture of chalk is jarring for most but for children with SPD (Sensory Processing Disorder), it can be a deterrent to participating in a classic childhood activity. This Custom Sidewalk Chalk Holder is the perfect easy-to-make solution!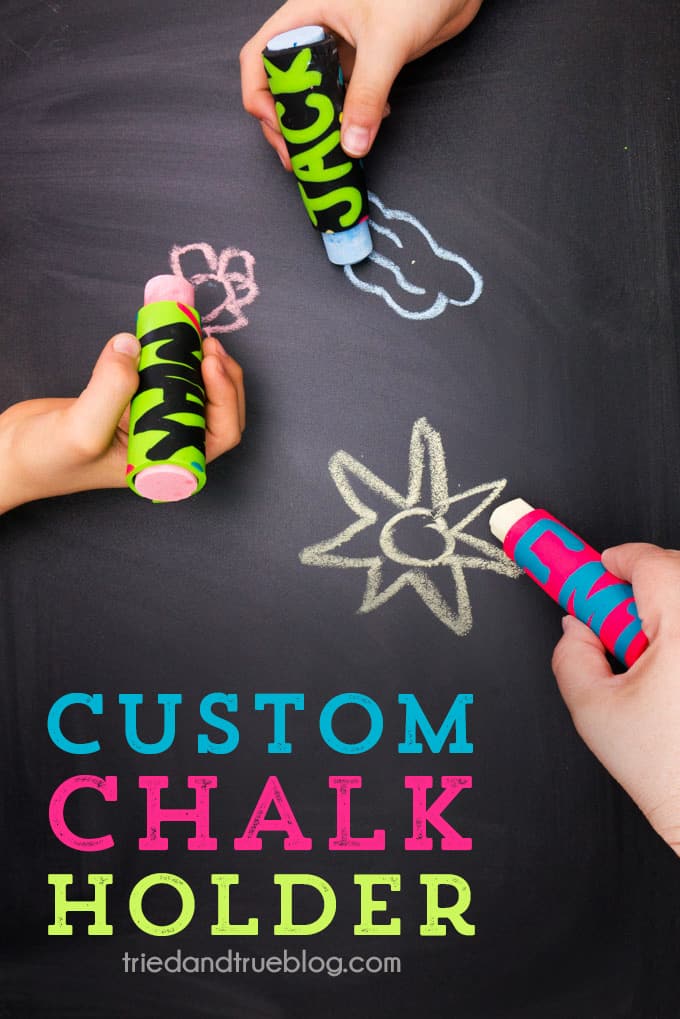 Like most people, I absolutely hate the feel of chalk. Totally wish I had this Custom Sidewalk Chalk Holder when I was a kid! While I may dislike the feel of chalk, children who have varying degrees of Sensory Processing Disorder may have an actual aversion to the feel. Unfortunately, these strong feelings may lead to choosing to opt out of chalk play with other kids. That's where these Custom Sidewalk Chalk Holders come in handy!
This Custom Sidewalk Chalk Holder tutorial is sponsored by Sculpey. Visit their site for tons of products and projects!
Custom Sidewalk Chalk Holder
Supplies:
Time needed: 30 minutes.
These Custom Sidewalk Chalk Holders are super fun to make and perfect for small hands that don't like the feel of chalk!
Roll out holder

Use the Sculpey® Acrylic Roller to roll out a section of clay large enough to wrap around your sidewalk chalk. Make sure to keep it around 1/4″ thick so that it maintains durability.



Customize

Use a variety of Sculpey® III colors to customize the base clay layer. Names are super easy to create with the Sculpey® Clay Extruder. Just push out a thin strand of clay and trim for each letter.



Press designs into clay

Using the roller, apply a gentle amount of pressure to flatten the design into the base clay.



Shape around chalk

Carefully lift the clay and wrap around the sidewalk chalk. Trim off excess clay from all sides. Make sure to keep a small slit opening on the back of the holder so that it can accommodate different sizes.



Bake and enjoy!

With the clay still wrapped around the chalk, place the mat on an oven safe tray and bake at 275° for 15 minutes. Allow the holder and chalk to cool completely before use.


The Perfect Summer Project
Drawing with sidewalk chalk is the epitome of summertime and with this Custom Sidewalk Chalk Holder, now all kids can partake in the fun! You can visit the Star Institute for more information on Sensory Processing Disorder. Depending on the age and ability, they can even roll out and customize their holder from start to finish. That's how easy Sculpey® III is to work with!
Make sure to check out the Sculpey website for more great tutorials and products! You can also follow Sculpey on Instagram and Facebook.
I'd love to see how you customize this project so make sure you tag me on my social media accounts!
Instagram | Facebook | Pinterest
Want more fun clay-based projects?