Do coffee and crafts go together? Based on this Coffee and Crafts Free SVG, I think so! I usually find my inspiration while sipping my morning cup of joe. Coffee and crafts are the perfect way to start the day!
Make sure to check out all the other excellent craft-themed free SVG files from some of my favorite creators at the end of this post!
Why Coffee & Crafts?
You were wondering why I chose to create an SVG file with coffee and crafts?
Well, coffee's got caffeine. Caffeine helps with alertness and concentration. A good thing because coffee increases your ability to concentrate on crafts!
Another reason? One of the calmest and most inspirational moments in my hectic day happens while sitting on the couch with my husband with a hot cup of joe in my hand. That coffee break allows me time to sit back, relax and enjoy coffee while chatting about our day with my hubby.
I'm betting that many fellow coffee-loving crafters are out there, so I designed an SVG file to celebrate us!
Ways to use free SVG files
celebrate your love of crafts and coffee with a t-shirt
decorate a reusable tote
embellish a coffee mug
decorate a coffee or tea themed card
make a coffee themed party favors
Create coffee-related handcrafts such as bookmarks, magnets, and name place cards
fun stickers
create coffee-themed quilts or embroidery patterns
decorate a coffee-themed gift
add coffee images to a coffee or tea themed picture frame for your craft room
decorate a jar lantern with coffee images
attach some images onto votive candles for DIY candle holders.
And more!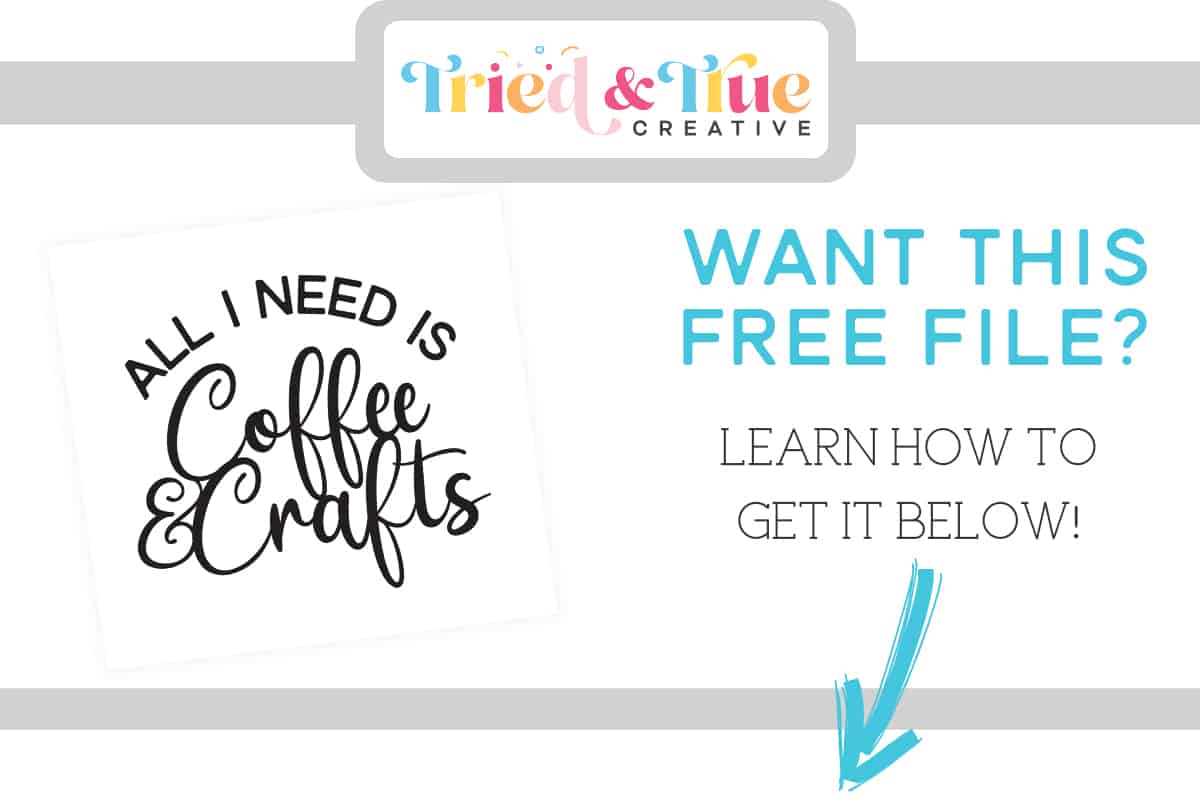 Download the Coffee And Crafts Free SVG file
Downloading the Coffee and Crafts Free SVG file is easy if you're already a Tried & True Creative Library member. Just enter the password you received via email, and you'll be able to download the file.
Not a member yet? All you have to do is sign up for our newsletter, and you'll receive the password to download the coffee and crafts free SVG file, along with other great crafting goodies & inspiration!
More Craft Free SVG Files
We love crafts, so we've partnered with some of our favorite SVG creators to bring you even more craft-themed free SVG files. All you have to do is click on the links below to their blogs, where you'll be able to grab the free files!
Just Keep Crafting
by Persia Lou
Crafting+Diet Coke
by Crafting Overload
Paint Palette Mini Pinata
by Studio Xtine
I am not messy… I'm crafty
by Polka Dotted Blue Jay
Floral yarn ball SVG
by Oh Yay Studio
Never Underestimate a Crafty Gal
by Gina C. Creates
Craftaholic Hat
by Pen + Posh
Crazy Craft Lady
by Poofy Cheeks
Craft All the Things
by Crafty Life Mom
Caffeine Craft Repeat
by Liz on Call
Crafty Friends Card
by The Bearded Housewife
I like crafting and like three people
by The Walnut Street House
Life is short. Do the crafting
by Sunshine and Munchkins
I Can Totally Make That!
by Lettered by Stephanie
Creativity in Progress Craft Room Sign
by Spot of Tea Designs
They See Me Rollin'
by Craftara Creates
Vinyl Hoarder
by Simply Made Fun
Coffee & Crafts
by Tried & True Creative
Coffee and crafts go together like coffee with tea. If you're a coffee-lover, then this free SVG file is perfect for you! You can use it to decorate coffee mugs, t-shirts, or cards that relate to coffee. It's also the ideal way to celebrate your love of both coffee and crafting projects in one fell swoop. Download our Coffee And Crafts Free SVG today by entering the password we sent via email into the Tried & True Creative Library login page on your account dashboard! We hope you enjoy crafting and coffee drinking!
More T&TC Free SVG Files