We live in a quaint house that was built in the 1930's and while there are so many things I love about living in a small house (cozy, easy to clean, and great for keeping any eye on the kids), sharing 1300 square feet with four other humans is not without it's challenges. That's why I totally jumped at the opportunity to participate with a sponsored post in Treetopia's Christmas In Small Spaces blog hop. After years of squeezing a full-sized tree in our living room, there's got to be a better space-saving option!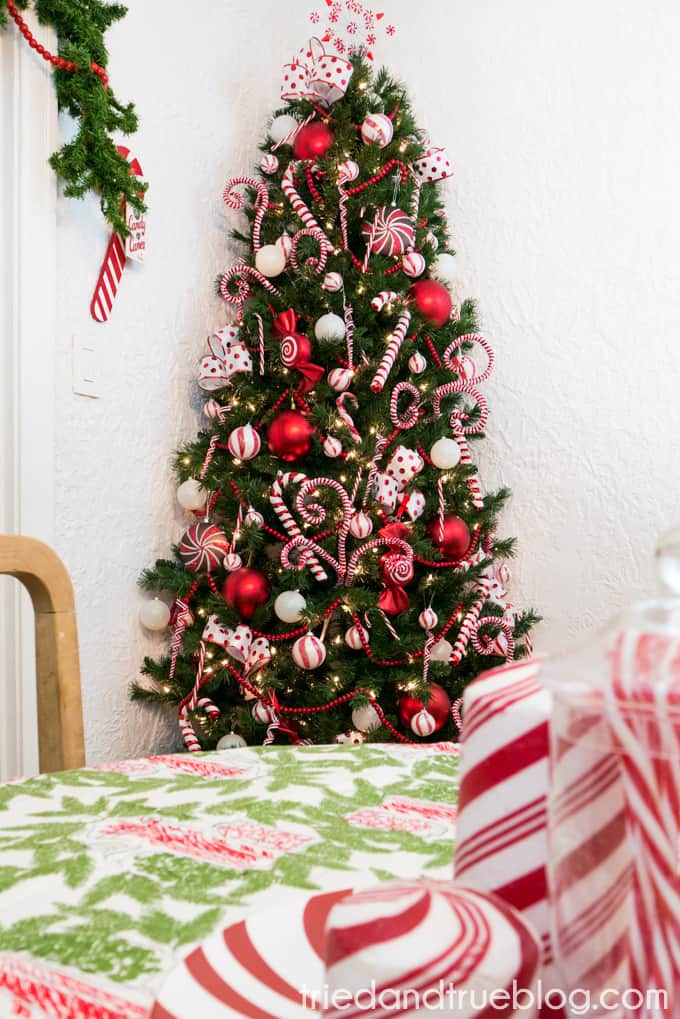 Since we're short on space but big on holiday spirit, I decided to give the In Your Corner Christmas Tree a try. I had heard of corner trees before but, honestly, they sounded kind of gimmicky to me so it never entered my mind as a space saving option. Oh, how I was wrong! I absolutely love the look of this tree and the fact that it takes up a quarter of the space? Perfection. My husband, who was even more hesitant to give it a try, totally agrees that it takes a while for you to even realize that the tree in the corner isn't fulled sized.
You can see in the picture below that this tree fits perfectly in the corner of our small dining room. Set up was as easy as any artificial Christmas tree and having the lights already attached meant I could quickly move on to the fun part…the decorating!
Since this tree was going in our dining room, I thought it would be fun to make it the edible theme of Candy Canes. There's just something about the look of red and white on a green tree that screams Christmas, right? I actually had the majority of the ornaments in storage so I only had to run to the craft store for a few accent pieces like the large curly picks and coordinating polka dot ribbon. Shhh, the XL red ornaments are actually from a dollar store!
I'm still working on adding a few other accessories to the rest of the room but luckily, I already had a few things in my Christmas arsenal that worked perfectly with the candy cane theme. A few ornaments in a apothecary jar, my favorite vintage table cloth, and an extra large "Joy" banner? Not too bad of a start to the season!
I know this is a sponsored post but I could not be more sincere when I tell you how much I love this tree! We would never have been able to put a full tree in this corner and still be able to walk through the room to our play area. The In Your Corner Christmas Tree is absolutely perfect for any small space! Is it crazy that now I'm actually considering putting up two Christmas trees in our small house? One for me to decorate and one for the kids? Check back in a few weeks to see if I'm just that crazy!
Don't forget to visit all the other awesome bloggers in the Christmas In Small Spaces Blog Hop!
Monday
Tuesday
Wednesday