When I first heard about Cricut's new line of Infusible Ink I was immediately fascinated! Was it a new type of vinyl or iron-on? What special tools are needed? Can it be applied to all materials? How long will it last? I'm sure you have the same questions, so I wrote the Beginner's Guide to Cricut Infusible Ink!
Keep on reading to learn exactly how to use Cricut Infusible Ink.
Here's a quick video to see just how amazing Cricut Infusible Ink is!
What is Infusible Ink?
Infusible Ink is an ink transfer process where the colors on a transfer sheet are applied directly into the blank surface. Notice that I said "into" instead of "onto." Unlike heat-transfer vinyl, the ink isn't sitting on top of the surface, it's directly applied into and absorbed by the fibers. Unlike HTV, if you were to run your hands over the bag in the picture below, you wouldn't be able to tell where the bag ends and the words begin. There's no way it'll ever peel or flake…amazing, right?!
Cricut has two ways to apply Infusible Ink: Cricut Infusible Ink Transfer Sheets and Cricut Infusible Ink Markers / Cricut Infusible Ink Pens. This tutorial will be using the Transfer Sheets only but you can see the markers in action in my Back To School Personalized Masks with Cricut Infusible Ink tutorial.
What can I apply Infusible Ink to?
Due to the nature of the ink transfer process, any blanks you use have to either have the perfect ratio of polyester/cotton or a special coating layer for hard surfaces. You definitely don't want a 100% cotton shirt for these projects! While it may be possible to find these on your own, I highly suggest just sticking with the compatible Cricut blanks. They have a few designs of t-shirts, bags, and coasters already and will be coming out with tons more options soon!
What Cricut Machines Do I Need?
The great thing about the Infusible Ink system is that you can use a wide variety of Cricut machines to cut and apply your designs. The Cricut Maker (my personal favorite!), Cricut Explore Air 2, and Cricut Explore Air can all cut through the transfer sheet as well as use the Infusible Ink pens in their auxiliary clamp.
While you may be able to use the original Cricut EasyPress machine to apply your Infusible Ink designs, it's highly suggested that you upgrade to the Cricut EasyPress 2 for optimal transferring. The original only heats up to 350 degrees and both the Infusible Ink transfer paper and pens require either 385 or 400 degrees to get the full richness of the color. The EasyPress heat plate will guarantee even distribution of heat for optional results.
Not only is the Cricut EasyPress 2 great for Infusible Ink projects but it'll also be super helpful with other heat transfer projects using HTV and more!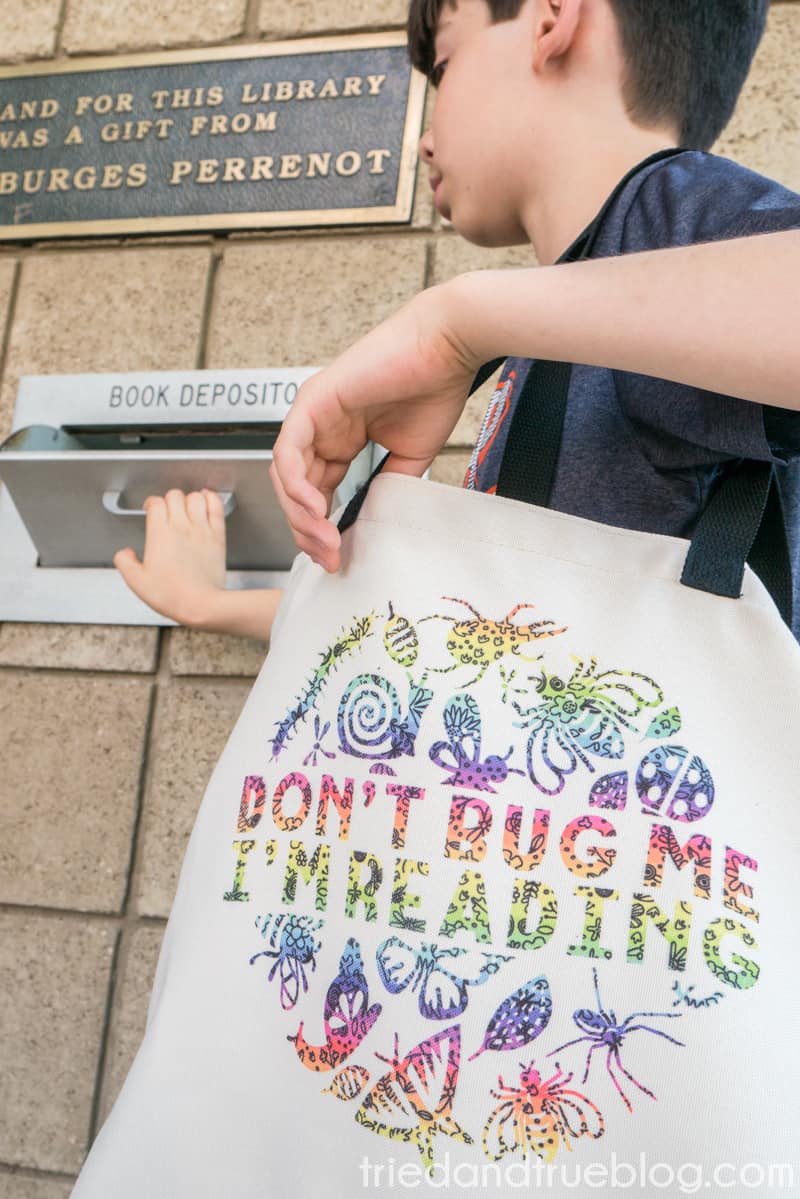 How do I use it?
Once you understand the process, using Infusible Ink is super easy! I figured the easiest way to fully describe it was to put together a tutorial for this cute Bug Library Infusible Ink Tote and the coordinating Book Lover Infusible Ink Ceramic Coasters. The important thing to remember is that you'll need the proper supplies to make these Infusible Ink projects. You can find sublimation blanks almost everywhere but it's easiest if you just stick to Cricut's Infusible Ink blanks.
Infusible Ink t-shirts and totes are safe to machine wash, dry, iron, and steam. You'll want to stick to cold water so that the inks aren't reactivated. I use a cold-was mild detergent and haven't had a single issue! We don't use fabric softener or dryer sheets in our wash but I haven't heard of any issues with those.
Infusible Ink Bug Library Tote
Supplies:
Time needed: 30 minutes.
This Infusible Ink Bug Library Tote is strong enough to stand the normal wear and tear of a book bag!
Create design in Design Space

You can either use the "Don't Bug Me" image I created in Design Space or make one of your own. Don't forget to mirror the image when cutting!



Cut Design

Place your transfer sheet onto a Cricut mat and cut out design. Once cut, gently fold the image back and forth to release the cut lines. The transfer sheet feels more like paper than vinyl so keep that in mind when weeding. Don't worry that the colors are muted. Their vibrancy really comes out after heating!



Apply heat

Place Cricut EasyPress Mat inside of bag with a cardstock sheet to protect it from the ink. Use a lint roller to remove any small debris from the bag surface. Preheat the tote bag for 15 seconds at 385°F, allow to cool. Layer the cut Infusible Ink transfer with a sheet of butcher paper over it on the front of the bag. Set the EasyPress to the same temperature but for 40 seconds. Apply light pressure on EasyPress and carefully remove.

HINT: The Cricut Heat Guide is super handy for all EasyPress projects!



Fix Errors

If you find that a section didn't transfer, you can cut out that portion of the Infusible Ink transfer sheet and carefully line it back up with the finished design before ironing again.


You can find this exact project in my Design Space profile! Just click on the link below and a new window will open up. Make sure to follow me over there to see all my original SVG files and projects!
Infusible Ink Book Lover Coasters
The coasters are just as easy to make with similar instructions! Again, you can use the exact same designs I did (find the project here) or create your own. You can really see how different the colors look on the Infusible Ink transfer papers. This brown color is going to turn perfectly black once the heat is applied!
Just as removing debris on the tote bag was important, you have to wipe down all the coasters with the lint-free fabric swatch included in the Infusible Ink packaging.
Set EasyPress to 400°F. Place a cardstock sheet over the EasyPress mat, apply the coasters face down onto cardstock, and cover back with clean butcher paper. Place machine over coaster backs for 240 seconds with no added pressure. Carefully lift the press and allow the coasters to cool completely. Remove any pieces of the transfer paper with tweezers.
Doesn't the Infusible Ink look amazing on these Book Lover Ceramic Coasters?!
What are you waiting for?
In conclusion, I am absolutely in awe of the Cricut Infusible Ink system! The high-end results will leave everyone wondering "How did you do that?" I can't wait to see what everyone makes with it! Make sure to leave me a comment if you have any questions and I'll be sure to answer them.
I'd love to see how you customize this project so make sure you tag me on my social media accounts!
Instagram | Facebook | Pinterest
Looking for more fun Cricut projects? Here's some you'll love: