Quick! You've got fifteen minutes before the kids' show ends and you want to get your craft on. What are you going to do? How about make a super cute, cheap, and quick Mouse Trap Clip! Use it by your desk to catch random papers or stick it up in the playroom to display artwork. Come by on Wednesday and I'll show you how I used it in my craft nook!
UPDATE: Check out my Mouse Trap Gallery Wall that helps me organize my craft desk!
Mouse Trap Clips
Materials:
– Mouse Traps
– Glitter
– Wire Cutters
– Mod Podge
– Foam Stickers
– Paint Brush
1. Assemble supplies. Except for the Mod Podge, I got everything at the dollar store! The glitter was an awesome find and the quality is good. There were three color schemes to pick from (I'll show why I needed more than just one color of glitter on Wednesday!)
2. Use your wire cutters to remove the extra hardware. Be cautious when removing the metal strip in the  middle. Feel free to pull out larger wire cutters if you've got them!
3. Use fine sandpaper to remove image. Highly suggest buying traps with stickers instead of printed logos! I believe Dollar General has some.
4. Affix letter of your choosing. If you're just making one Mouse Trap Clip, you can choose your favorite letter, your kid's initial or even another shape all together (like a heart or ampersand?)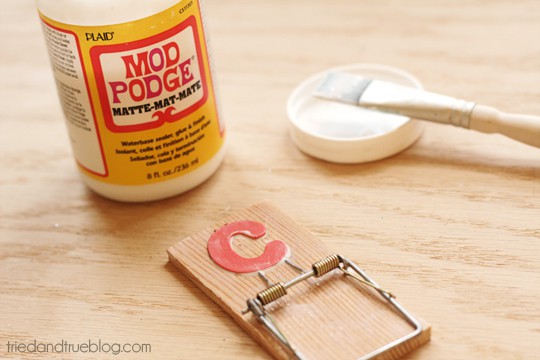 5. Apply an even coat of Mod Podge. Try to get all around the edges and inside the crevices of the sticker. I also coated the two metal prongs under the letter in MP so that they would disappear in the glitter (and because it was easier than trying to go around them!) We got 15 minutes here,people. We've got to choose our battles! 😀
6. Sprinkle entire glitter pack over the mouse trap. I love that you don't have to worry about wasting any glitter with these tiny little packs!
7. Tap off any excess glitter. Re-apply Mod Podge and glitter if you missed any spots. Allow to dry slightly before even attempting to remove letter. So hard to wait and you're probably already hearing the kids getting restless…we're almost there!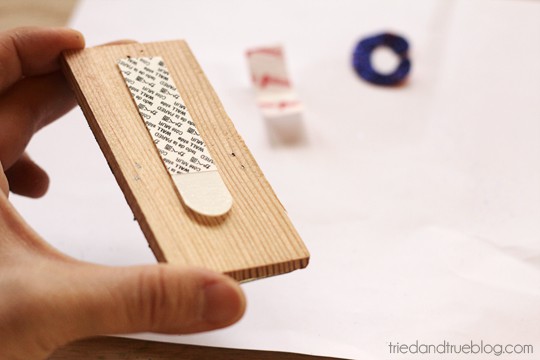 8. All that's left is attaching your Mouse Trap Clip to the wall and allowing it to dry completely before hanging anything. I used a Command Strip but they're so light, almost anything would work!
Happy to be a part of Craft Lightning Springtime Edition! Follow the button below to find more quick crafts to make!