This post may contain affiliate links for your convenience and to assist in the maintenance of this site.
We try to refrain from giving the kids sugary Valentine's Day treats because after visits to preschool, Kung Fu, and a certain Nana, the last thing they'll need from us is more sugar! Instead, we'll be giving this Valentine's Day Tumble Game along with some small toys and art supplies. I know, I know, definitely not as yummy but we'll all (including our dentist!) sleep better that night!
I found this great little "Tumble Tower Game" at Dollar Tree (think mini Jenga) and jazzed it up a bit to make them more fun for the kids. Every time you push out one of the blocks, you have to follow the instructions. The great thing about this Valentine's Day gift is that you can find all the supplies you need (game, markers, pen) at Dollar Tree. (For the record, this post is not sponsored by Dollar Tree. I'm just a big fan of getting my cheap craft on there!) If I had thought about it sooner, I probably could have found a little pouch to keep all the pieces in as well!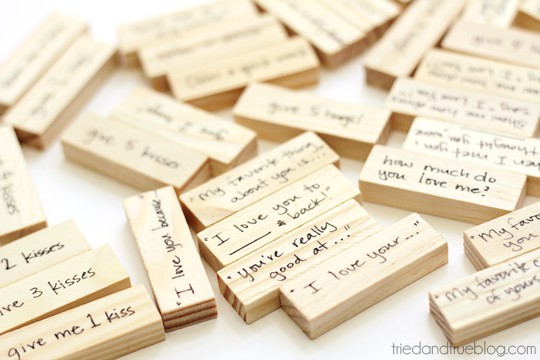 Use a pen or thin marker to write different love-themed instructions on the blocks. Feel free to use my Valentine's Day Tumble Game printable if you need examples of things to write for young children. Some the phrases will work for older kids and adults (who wouldn't want to be given 5 kisses!) but you can, of course, write what ever you want. Geek it up a bit ("I love you as much as I love the ______ Doctor.") or make it a little more risque for a special night at home. 😉
Once all the phrases have been written (whew!), you can add little decorative hearts to to the edges to make it even more cutesy. What's a Valentine's Day without hearts?!
I loved watching my five year old play this game! It took such patience and concentration to push out each block and every time the tower tumbled (which was often), it was a great lesson in being a good sport. The written instructions on the blocks added another layer of fun to the game and kept him entertained much longer than I thought. (That second picture is how a dino says "I love you"…raaargh!)
Hope you all enjoyed this tutorial and at the very least, I hope you enjoy singing Culture Club's "I'll Tumble 4 Ya" all day long! 😀