I look back at these Princess Leia Halloween Baby Wig pictures from last year and my heart just explodes. Look how cute and little my daughter was! It's crazy to think back to a year ago and how hectic our lives were with a newborn in the house. It's no wonder I went super easy with this Princess Leia Halloween Baby Wig. I had to rely mostly on hot glue because, between nursing and diaper changes, I just didn't have time to bring out the sewing machine!
This post contains affiliate links for your convenience and to assist in the maintenance of this site.
Star Wars Princess Leia Halloween Baby Wig
Materials:
Step 1. Dye both the t-shirt and the white beanie dark brown. Dying them at the same time saves time as well as ensures that the color is practically the same.
Step 2. Cut 2 5″ x 24″ strips from the t-shirt. Fold down the center and sew along the outside edge.
Step 3. Turn the sewn tube right side out and begin stuffing. Push the stuffing in so that it's fairly compact. You don't want Leia's hair buns to be flat!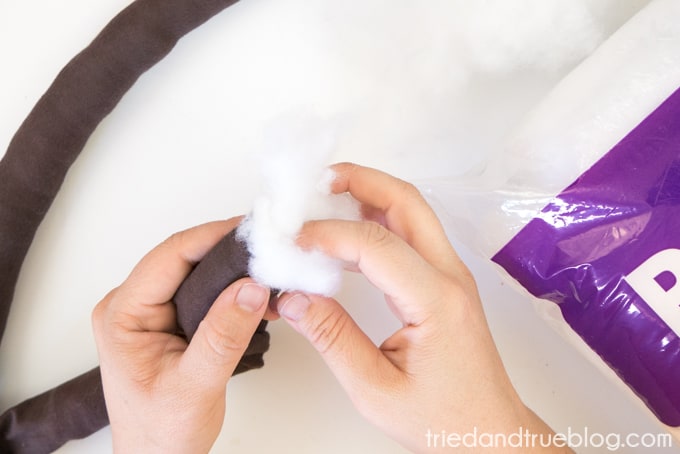 Step 4. With both tubes filled, take the beanie and cut away the bottom in the shape of Leia's hair. If your beanie is lined, like in the example below, you can either leave it this way or cut away the inner lining. I know that this raw edge is going to make the life-long sewers reading this cringe. Remember, this tutorial is for a Halloween baby wig that's really only meant to last through a few days of wearing. Gotta love Halloween crafting!
Step 5. Begin making the hair buns by rolling the tubes in on themselves and securing with a generous amount of hot glue. Make sure to add enough glue for each roll and hold in place until the glue is completely hard.
Step 6. Continue rolling, gluing, and holding until you're happy with the size of your hair bun.
Step 7. Finish the roll by folding the end up and gluing through the center. This will add some additional stability to your bun.
Step 8. Complete steps 5-7 with the other tube to make a matching set of cinnamon rolls…err, I mean hair buns.
Step 9. Place the hair beanie on something that is approximately the same size as your baby's head. This step is super important and will prevent you from accidentally gluing the buns in the wrong place. Add an ample amount of hot glue to the back of the bun and hold in place on the side of the hair until secure. Add glue to the side creases until everything stays exactly where you need it to.
Step 10. If you haven't bought or made a dress for your Baby Leia to wear, I highly suggest just using a white sleeper onesie. They're super comfortable and warm! I just freehand cut a few pieces of silver vinyl and ironed them in place. Done and done!
Princess Leia for the Win!
Now you just need a super cute newborn and a couple big brothers dressed as Jango Fett and Anakin Skywalker to finish the look! We ended up going to a few different Halloween parties last year and the baby wig held up perfectly. It even kept her little head warm when the temperature dropped at night. Hope you enjoy making a Star Wars Princess Leia Halloween Baby Wig for your baby!

Pin this Star Wars Princess Leia Halloween Baby Wig for later!

More fun Halloween projects from Tried & True!
Here are more baby costumes from my friends: