One of my favorite parts of this time of year is receiving all the beautiful holiday cards from friends and family. For me, they're such a sweet gesture to remind those we love, that even though our day-to-day life is crazy busy, they are never far from our thoughts and hearts. Plus, I love seeing those fun and creative family pictures you all take!
Holiday Cards 2014
This year, I got the opportunity to work with Shutterfly on the perfect holiday cards for us! (I received product and compensation for this post) I absolutely adore the Woodsy Joy design from Float Paperie. So much so that I just went ahead and ordered the entire line of coordinating Holiday Cards, Address Labels, Stickers, Personalized Postage, and Party Invites.
I've got to admit, my favorite part of my Shutterfly order were the personalized stamps! You guys know how it is…there's always that one picture when you're doing a family photo shoot where everyone is making crazy faces. And while you may not want to put it front and center, it seems like such a waste not to put it to good use. I think it's perfect for the front corner of the envelope!
Reduce, Reuse, Recycle
Another reason I chose the Woodsy Joy design was that I wanted to try and make our holiday cards reusable as gift tags. That way the paper we use to send out our holiday greetings (which is a really great weight!) can have a second life as a gift tag. All I had to do was design the back to include "To:" and "From:," perforate the top, and add a string to the corner.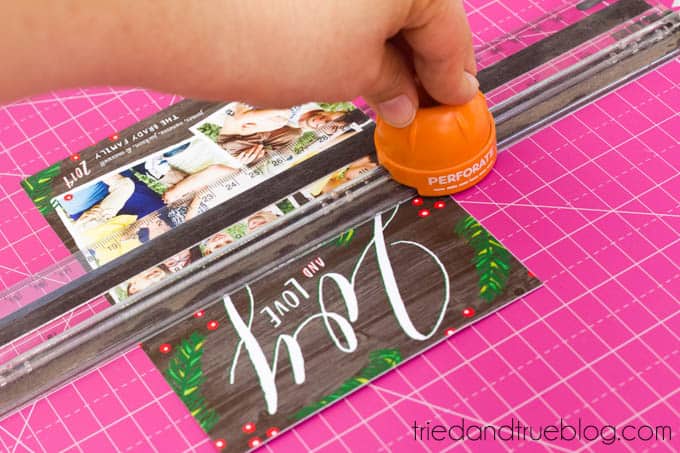 Now, after someone receives our holiday card, they can look at our silly faces, enjoy the little message, and then tear off the top portion to reuse as a gift tag. I don't know about you guys but I can never have to many gift labels around during the giving season!
Hope you guys enjoyed this idea on how to turn your Holiday Cards into reusable gift tags. Shutterfly has quite a few designs that would work wonderfully with this tutorial so make sure you jump over there to check them out!