Happy New Year everyone! After spending the last week and a half surrounding myself with the love and joy of family, I'm back with more Tried & True fun. The Christmas ornaments are put away (mostly!),  the Target holiday clearance rack has been picked over, and the kids' letters to Santa have been safely stored away until next year. I think it's safe to say we've survived another Holiday season!
I'm not so big on making one resolution (I have a hard time remembering how old I am each year, much less to follow a resolution!) but instead try to work on being a better human being overall. 35 years (or is it 36?) and I still have so far to go. I created these Resolution Printables to help remind me to take time, choose happiness and be kind, and thought some of you would be interested in them as well. Hope you like them!
Take Time – Tried & True Free Printable
Choose Happiness – A Tried & True Free Printable
Be Kind – A Tried & True Free Printable
If you liked these free printables, you're sure to love all these other
prints available from some of these amazing bloggers!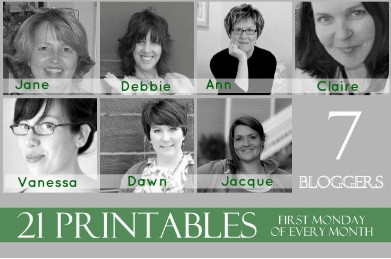 Debbiedoo's /Creative Cain Cabin /On Sutton Place
Cottage at the Crossroads / The DIY Village / a little CLAIREification