Use this Outdoor Easel Tutorial to make your kids the perfect creative station! Easy to make with the included plans and instructions.
Want an Outdoor Easel but don't want to spend major bucks on it? I don't blame you! Make one for yourself with just the most basic of woodworking tools. Don't have a saw or a way to get the boards home? If you ask really nicely, the people at your local home store will probably do the cuts for you!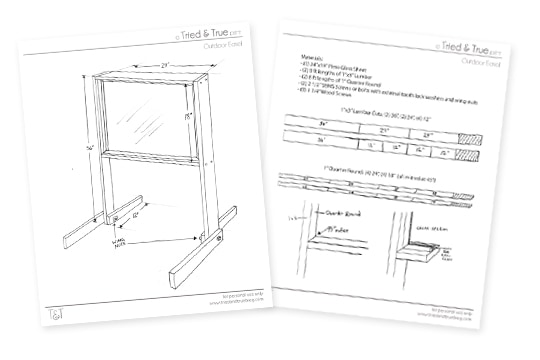 First things first, download the Outdoor Easel Plans (download below) and purchase necessary supplies. Follow the "Suggested Cuts" diagrams on the first page to get the most out of your purchase!  You may have all the wood you need from scrap material (lucky you!). If so, just measure and cut the appropriate sizes.
As far as construction goes, follow the diagram on the second page to assemble the frame, leaving the top 24″ board off. Attach the mitered quarter rounds with either small nails or wood glue (never mind that edges aren't mitered in the picture above!). Slide the plexiglass sheet in place and secure in place by screwing in the top 24″ board. All you have to do now is attach the legs and then you're done!
Now comes the fun part! My kids have used tons of different supplies to make art on their easel, including:
And we're always on the hunt for more! I'm even planning on taping up worksheets for my 4 year old to work on this Summer. Nothing like bringing the classroom outdoors!
The great thing about this easel is that when your kids are done and they've moved on to their next adventure for the day, all you have to do is wipe down the plexiglass with water and a cloth, push up the legs and store for next time!
Also, if anything happens to the plexiglass (which, with my two boys and their three boy cousins, I'm almost counting on!), you can remove the top, slide out the old plexiglass, and easily replace it with a new one.
Hope your kids enjoy their Outdoor Easel just as much as ours do!!