There is  nothing in this world that exemplifies "Spring" quite so much as a fresh new baby! I made this "Everything" Nursery Art at the request of my cousin for her beautiful new baby girl and thought all my fellow machine cutters might want to the free SVG and Studio files to make your own. Welcome to the world, Baby Bells!
This post may contain affiliate links for your convenience and to assist in the maintenance of this site.
Everything Nursery Art
Materials:
– Free "Everything" Nursery Art files (SVG, Studio)
– Scrapbook Paper
– Silhouette Cameo
– Spray Adhesive
– Fine Point Glue Pen
– 12″x12″ Scrapbook Frame
Instructions:
1. Download the free "Everything" Nursery Art (SVG or Studio) and run it through your cutting machine. I used the standard settings for textured cardstock. Once cut, begin weeding the words, taking care to put aside any of the small pieces you might need for later.
2. Lay the words and the circle out backwards and apply spray adhesive to the back.
3. Glue in place on a separate 12×12 piece of scrapbook paper. Use a fine point glue pen for the small pieces and dots.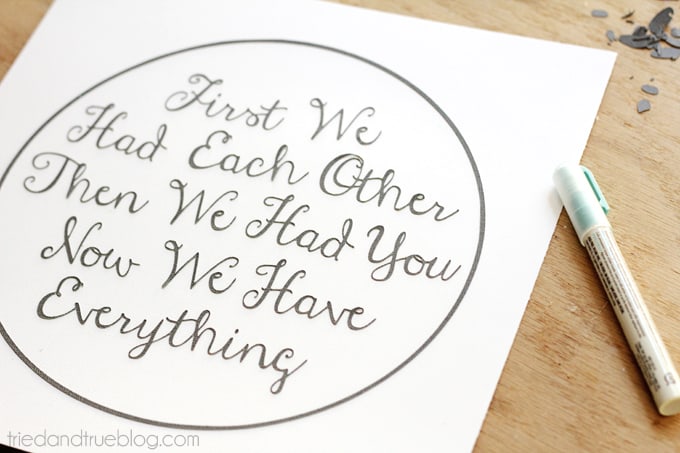 4. Since I was in a bit of a rush to get this to my cousin (sorry it was so late, Gabi!), I used the Autumn Flowers pattern from BasicGrey I bought from the Silhouette store so obviously, I can't re-distribute that to you guys. You can either buy the pattern, design your own, or look around for free files. I'm sure you'll find something!
5. If you kept all your pieces after weeding the letters at the beginning, you can make two for the price of one! I can't decide which one I like better, the mostly white or grey one? I asked everyone over on my Instagram feed (don't forget to follow me!) and they were pretty split down the middle. Which one do you like best?
After assembling your "Everything" Nursery Art, just put it in a 12″x12″ scrapbook frame and you're done. If you made it for yourself, you can hang and enjoy it and still have a second one to gift to a special friend!
Want to Check Out More Silhouette Projects?
My Silhouette Challenge buddies and I are all sharing projects on our blogs today, so peruse the projects below for a wealth of Silhouette inspiration!
1. Dream a Little Bigger // 2. So Much Better With Age // 3. Adventures in All Things Food // 4. Creative Carnival // 5. The Kim Six Fix // 6. feto soap // 7. One Dog Woof // 8. The Experimental Home // 9. From Wine to Whine // 10. Architecture of a Mom // 11. Grey Luster Girl // 12. Minted Strawberry // 13. Designed Decor // 14. Tried & True // 15. Silhouette School // 16. Bringing Creativity 2 Life // 17. Weekend Craft // 18. Practically Functional // 19. Please Excuse My Craftermath… // 20. McCall Manor // 21. unOriginal Mom // 22. Creative Ramblings // 23. A Tossed Salad Life // 24. A Glimpse Into Barb's Life // 25. Kate's Paper Creations // 26. Simply Kelly Designs // 27. Cutesy Crafts // 28. Persia Lou // 29. Whats Next Ma // 30. Two Purple Couches // 31. The Frill of Life // 32. Nearly Handmade // 33. Get Silvered // 34. Ginger Snap Crafts // 35. Life After Laundry // 36. The Sensory Emporium // 37. Monograms & Cake // 38. The Thinking Closet // 39. My Paper Craze // 40. Chicken Scratch NY