This Morse Code Bracelet Valentine's Day Gift tutorial is easy to make
and perfect for any special person in your life!
I absolutely love Valentine's Day and it's got nothing to do with the fact that my birthday is one week before it. (Ok, maybe just a little.) One of my new favorite twists on the holiday is Galentine's Day (find more info here).
Whether you're looking for something to make for a loved one or a special friend, this Morse Code Bracelet Galentine's Day Gift can be customized to perfection!
This tutorial originally appeared on Crafts Unleashed and contains affiliate links. If you purchase through these links, I receive a small percentage (at no cost to you!) that helps me continue to offer original tutorials and free SVG cut files!
Morse Code Bracelet Galentine's Day Gift
Supplies:
Before we begin working on your Morse Code Bracelet, you need to decide on what word you'd like to write out. Some ideas include a special place you hung out, nickname you may call each other, or just the word "love." I'm using the word "sister" and sending them as a surprise!
You can look up "Morse code" on the internet or just follow the image on my phone in the pictures below. Begin adding the round and curved tube beads to represent the dots and dashes of Morse code.
When you're done with spelling out your word, add a couple of crimp beads to the ends to secure all the beads in place.
You can finish off your bracelet with standard jewelry ends or make slip knots to fit any wrist. Here's an easy tutorial on how to do that!
Look how simple and sweet this Morse Code Bracelet Galentine's Day Gift looks on! Beautiful by itself or paired with other bracelets. Your favorite gal pal is going to love the sweet sentiment behind it!
Pin this Morse Code Bracelet Galentine's Day Gift tutorial!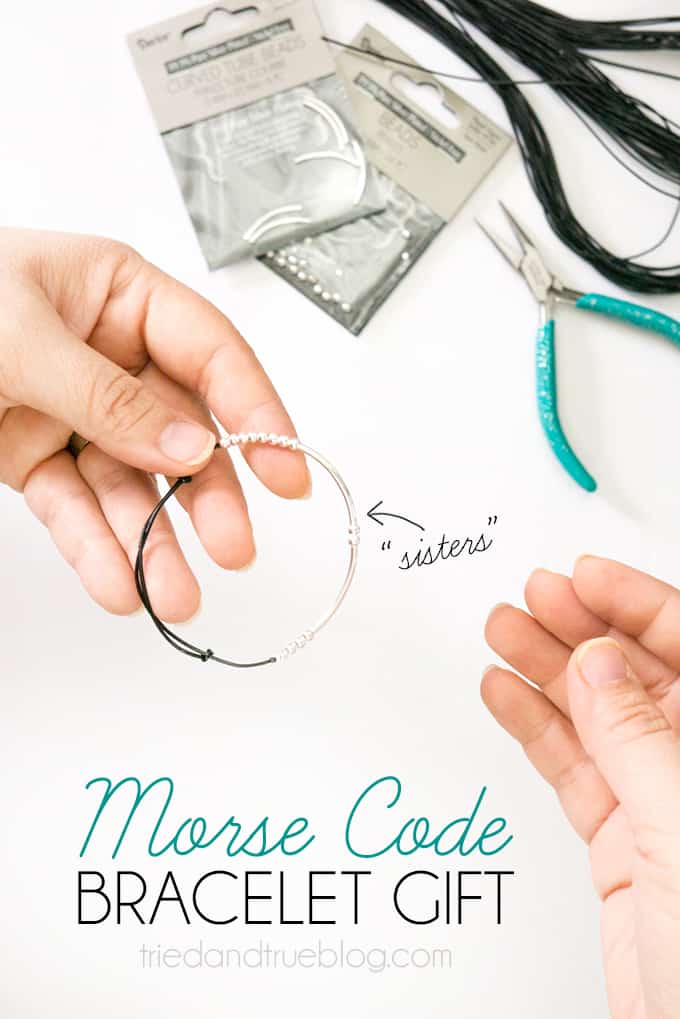 Check out more Valentine's Day projects from T&T: