If you walk around my house lately, it becomes glaringly obvious by the mounds of used tissues everywhere that allergy season is upon us! Blah, I totally hate allergies. I'm seriously blowing my nose every five seconds and so, in order to keep up with the ridiculous amount of trash tissues I'm producing, I created this fabric trash can to follow me where ever I go!
Fabric Trash Can
Making a fabric trash can is so wonderfully easy! It's the perfect beginner's sewing project since you only need to sew four straight lines to complete it. To begin, you're going to need two pieces of fabric cut 8.5″x11″ on the fold (use a standard piece of printer paper as a template). Sew along the open edge and bottom to create a bag. Repeat with other fabric piece.
Turn the outside fabric (elephant fabric for my example) right side out and place inside of lining. If necessary, pin the top edges together and sew. Use a seam ripper to open a small hole at the bottom of the lining and pull the outside fabric through. Sew the lining seam shut again.
Push lining into outside fabric, press top seam with an iron, and top stitch to finish!

Use a 5.25″ embroidery hoop to stabilize the fabric trash can as well as give you easy access. You can even add a piece of string to the hoop so that it can hang where ever you need it!
And Boy, Do I Need It!
For the last few weeks, I've been walking around with my fabric trash can every where I go! I love that packaging allows me to easily shove it in my diaper bag but with full-sized tissues, it's still large enough to keep up with my nasal needs. It's seriously so handy to have around the house and on the go!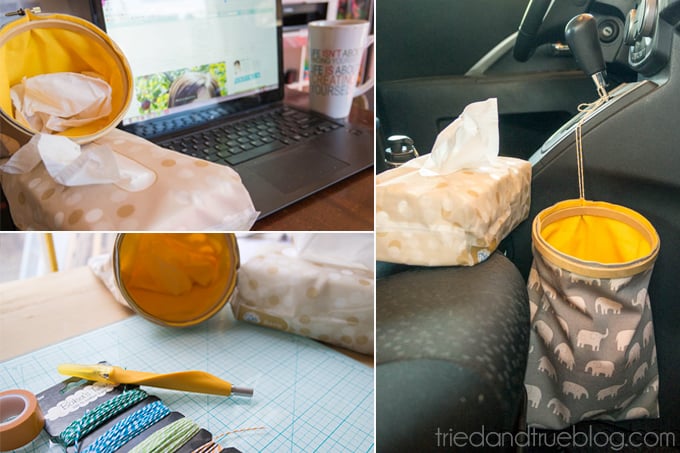 Even if you don't suffer from allergies, don't forget that the cold/flu season is almost upon us and you can be sure that at least one family member is going to need a fabric trash can following them around! Happy Sneezing!