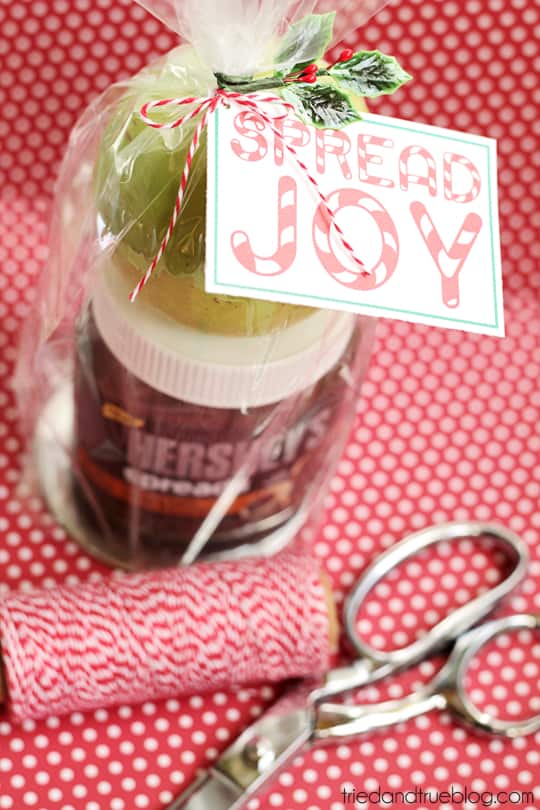 Yikes, Christmas is a week away! I've been so busy working on tutorials for this blog and spending fun holiday time with my kiddos, I completely forgot to put together gifts for Jack's teachers. One of these days, I swear, I'll have it all together! Until then…

Thank goodness for the Hershey's™ Spreads! Paired with an apple and packaged with bow, who wouldn't want to receive a little package of chocolate goodness?! With three different flavors (Chocolate, Almond, & Hazelnut– my favorite!), there's sure to be something to please anyone. I should know. I may or may not have dug into the jar of Hazelnut with a spoon as soon as I got the package from my mailman. Don't judge…I'm a little stressed over here. 😀

Once everything is packaged, write out your message on the back of my "Spread Joy" free printable tag, punch a hole in the corner, and tie in place with some twine. If you've got a little extra time, feel free to add some bells or fake holly to make the gift extra festive…and to hide the fact that you totally forgot about a gift!

And….done! Your sweet gift is ready to go and you put it together in a matter of minutes. Win/win for everyone! Hershey's Spreads are great to have around during the holidays for easy entertaining. A platter of fruit and crackers with chocolate dip? Absolute heaven!


Don't forget to download my free "Spread Joy" printable tag to include with your Hershey's Spreads gift. I've included two different files to make this easy for you. Use the "Spread Joy" Gift Tag – Single file if you only need a tag for one gift recipient and the "Spread Joy" Gift Tag – Page file if you have multiple gifts. Hope this helps out some of my fellow procrastinators!