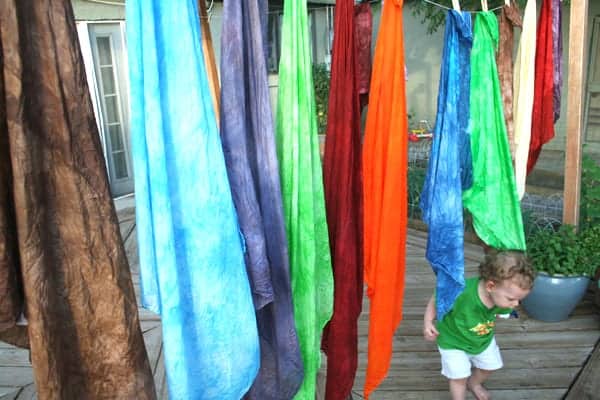 A couple months ago I came upon a tutorial on The Artful Parent for Kool-Aid Dyed Playsilks. I hadn't really heard about playsilks before that but upon further investigation found out that they're awesome. They can be pretty much anything your child wants them to be: capes, dresses, blankets, scenery, tents and the list goes on and on.

So, seven of us got together with our seven toddlers (all under 2 years) and dyed 42 playsilks in total. We started around 11 am and didn't finish until about 5 pm. We did six scarves at a time, with the other mothers pitching in to watch the child of whoever was working on their playsilks. It was a blast seeing so many babies toddlers (oops) running around the house!
After we did the first batch of Kool-Aid packets, some of the mothers decided to get a bit creative with color combination and as a result we ended up with 14 different color at the end of the day. Most of us only did one round of microwaving/sitting and the difference between those that did two rounds was only minimal. We wrote down most of the color combinations so that we would remember exactly how to recreate a color and I thought some of you might be interested in them. I also made a printable project list with all the color combinations as well. Figured it would be easier for you if you didn't have to run back and forth from the kitchen and the computer!
Edit: Here are a few answers to some of the more popular questions posted in the comments.
Where did you get your scarves/What size were they?
We did a bulk order of 30″ Habotai Scarves from Dharma Trading Co. (around $4.00 each). Non-bulk orders come out to $.16 more per scarf.
Will these bleed?/How do you prevent them from bleeding?
The colors will wash out over time and fade if you wash them often. We just use them for indoor play so quite frankly, I've never had to rewash them. (That's kinda embarrassing to admit.) Rinsing them in vinegar after dying the silks will help set the color more.
Will this process work on other materials (cotton, wool, hair, etc)?
A few of you have mentioned that Kool-Aid will also dye hair and washes out after a few washes. As for other fabrics, I know a ton of people dye raw wool with Kool-Aid and make yarn out of it so I'm sure you can find quite a few tutorials if you google it. Cotton? I honestly have no idea but let me know if any of you try! 🙂
I can't read the color combinations! Please help?
You can find all the exact combinations on my printable project list as well as below:
Pink – 3 Pink Lemonade
Red – 2 Chery/2 Jamaica
Maroon – 2 Cherry/1 Blue Berry
Orange – 3 Orange
Dk Orange – 3 Orange/1 Cherry
Yellow – 3 Lemonade
Dk Yelow – 3 Lemonade/1 Orange
Green – 4 Lemon Lime/1 Blue Berry
Lime Green – 3 Lemon Lime
Blue – 4 Blue Berry/1 Grape
Sky Blue – 3 Blue Berry
Purple – 3 Grape
Brown – 2 Lemonade/1 Grape/1 Orange
Dk Brown – 1 Lemonade/1 Grape/1 Orange