This Kindness Rocks Project tutorial originally appeared on the Consumer Crafts blog and contains affiliate links. The small percentage I may earn off your purchase comes at no extra cost to you and helps T&T continue to offer free printables and tutorials!
If you've been anywhere around social media or Pinterest lately, you've noticed that doodling on rocks is back in a big way! There's just something so fun and kinda meditative about adding art to a seemingly boring pebble. The idea behind The Kindness Rocks Project is pretty basic: decorate rocks with positive messages and leave them out in public to spread love in your community. Making these sweet little rocks with kids is not only super easy but can also be the catalyst for important lessons in kindness along the way!

As I mentioned above, participating in The Kindness Rocks Project is really easy. Depending on your location, finding small, smooth rocks may be the hardest part of this entire tutorial! Luckily, my sister had a rock bed full of these perfectly sized landscaping rocks. Most of our rocks measured approximately 3″ across but, of course, there was some slight variation. We just used old spray paint that we had in our garage but I've found that Krylon is readily available and comes in tons of fun colors.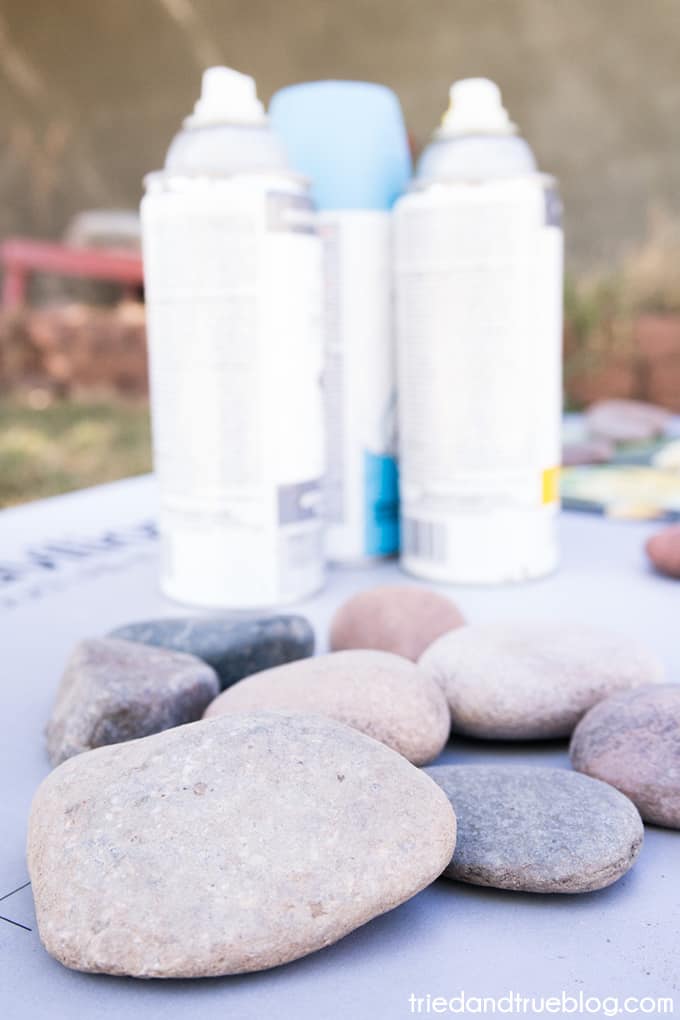 The biggest hint I have for making these rocks with kids is to spray paint the rocks before hand with a base color and allow them to dry completely before the kids show up. Each spray paint brand is different but we found that the glossy paint needed a good amount of time to completely dry or else it was too sticky. Highly recommend using a matte finish!
Now that the rocks are painted and ready to be decorated, we laid out a big blanket and put all the Sharpie Paint Markers in the middle for everyone to choose from. You may want to pre-condition the pens before your guests arrive (shake and press tip until color emerges). Some of our guests had a difficult time coming up with ideas to paint on their rocks. Having a quotation book or printing out a list of inspirational messages may help them come up with ideas. Depending on the age and ability of all your guests, you might have to pair up and work as partners. Remember, participating in the Kindness Rocks Project is as much about the journey as it is about the destination!
Once all the rocks have been painted, you can use a UV-Resistant Clear Acrylic spray to protect the rocks from the elements and then distribute the Kindness Rocks in public areas that they are sure to be seen and appreciated! We dropped some off at our neighborhood park as well as in a few fountains at the mall. So much fun!
One of the best things about participating in the Kindness Rocks Project was the time spent sitting on a blanket, creating and sharing love with each other as a family. It was such an easy and casual way to talk about being part of a larger community with our children. I don't think any of us will forget this memorable afternoon anytime soon!
Making these Kindness Rocks was such an easy and fun process that I'm sure we'll be making more soon! Hope you participate as well!