This "I Heart You" 3D Alphabet Art tutorial may contain affiliate links for your convenience
and to assist in the maintenance of this site.
Have you ever thought of project you wanted to make and even though it was kinda difficult, you just couldn't get it out of your head? That's what this "I Heart You" 3D Alphabet Art (originally made for Crafts Unleashed) was for me!
I loved the idea of making a 3D version of  those alphabet posters you've seen all over the internet but was worried I'd be left with 25 letters and a heart if the project didn't pan out. Lucky for me (and my storage situation!), this project totally worked and is now hanging in my sweet nephew's room!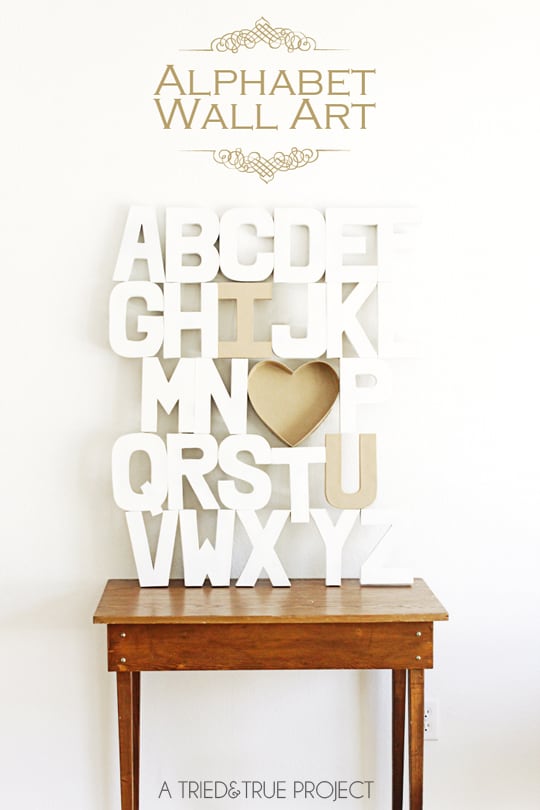 Paper Mache Alphabet Art
Materials:
– 8″ Paper Mache Letters (all except for "O")
– Paper Mache Heart (edges trimmed)
– White Spray Paint (or Spray Gesso)
– High Temp Glue Gun/Sticks
Instructions:
1. After you receive your large box of paper mache letters in the mail (Consumer Crafts has great sales on these letters sometimes!) and trim the edges off the heart, you're going to want to lay them out on the floor to determine your preferred layout. This step took for-EVER so feel free just to copy mine. It comes out to approximately 3'x4′ so if that works with your space…the job's halfway done!
2. Next step is to spray paint your letters and heart. I went with white paint and chose to leave the "I Heart You" brown but you can also get funky with fluorescents or pastels.
3. After the paint has dried, all that's left to do is connect the letters together with a high temp hot glue gun. You're going to want to do row by row, very patiently. Push the letters together the entire time that the glue is drying in order to get a solid connection. Using a high temp glue gun will give you a little more time to make sure the letters are in the right place (as opposed to a low temp glue gun that solidifies quicker).
4. Once all the letters have been connected, very carefully turn the whole piece around and reinforce the joints with more glue. This will help add a bit more stability to your "I Heart You" 3D Alphabet Art.
5. Allow glue to dry completely and either stand or hang your art where you like! If you're hanging it, you can either use strategically placed nails, resting in the letter nooks or punch small holes in the back if you'd rather not see the nails.
I like that it takes up a large portion of the wall without leaving your wallet bare. You could even take your time and buy up the letters a few at a time to help stay within a decorating budget. As I mentioned above, my nephew has this hanging in his room and it looks so cute with random toys on it!
Do me a favor and share some pictures with me if you do decide to make one of your own. I'd love to see the different color combinations you come up with! (Hint: Make sure all the letters are facing the right direction before gluing them together!) 😀