I've had this blank wood panel on the wall of my craft studio for almost a year now and I've been meaning to stencil the words "Crafte Diem" (Craft The Day…lol) for about as long but between the exhaustion of pregnancy and then the sleep deprivation with a newborn…well, the project just kept being pushed back. Well, not any more!!! I'm so excited about finally having a fun piece of art to look at in the studio instead of a blank plywood panel. Learning how to make an XL vinyl stencil wasn't bad at all. Let me show you!
THIS POST IS SPONSORED BY EXPRESSIONS VINYL AND CONTAINS AFFILIATE LINKS. THE SMALL PERCENTAGE I MAY EARN OFF YOUR PURCHASE COMES AT NO EXTRA COST TO YOU AND HELPS T&T CONTINUE TO OFFER FREE PRINTABLES AND TUTORIALS!
First things first, I was going to have to figure out how to convert  this image into an XL stencil.  It might  be just me but it took good amount of time to wrap my brain around how to do it. What I came up with eventually was to pull the image into Cricut Design Studio, make it the size I needed, add 11.5" x 23.5" reactangles, and then use the Slice tool to cut up the words in appropriately sized sections.  I'm not sure if this is the easiest way or how everyone else does it but seem to work for me!
 After I had the project laid out, all I had to do was send it to my Cricut Explore Air 2 to cut out of Expressions Vinyl's stencil material. I ended up needing five 12″ x 24″ panels to make up the entire piece so I was really glad that I had gotten the 5 yd. roll. Plus, I had some left over for all the other stencil projects I have floating in my head!
Ok, this is the part of my tutorial where I have to insist on doing as I say instead of as I do. I made the total rookie mistake of trying to transfer the cut stencil vinyl by hand instead of using transfer paper. The pieces were big enough that it was relatively easy but it would have been soooooo much easier and more precise if I had stopped being a cheapskate and just fork over the transfer paper. It's not like I didn't have any either. I have this huge Expressions Vinyl Transfer Paper Tape roll that I totally love!
Whether you take my advice to use transfer tape or not, you're going to have to cut away the edges since the cutting machine doesn't cut to the edge. You can either do this before or after (like in the image below) placing the stencils on your surface.
There you go! All the stencil pieces are in place so now I just need to add paint.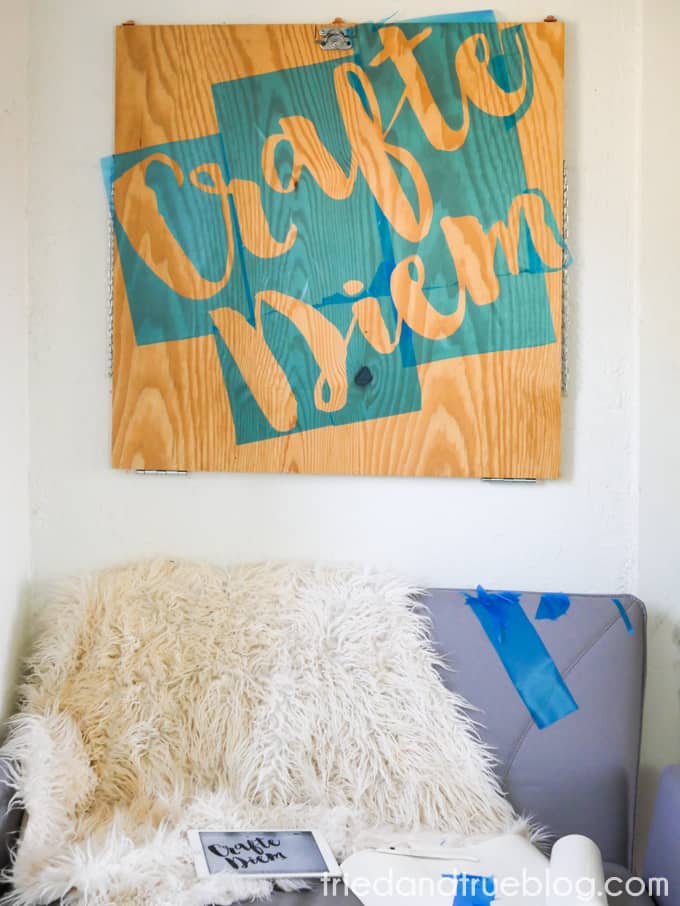 Let me tell you why this stencil vinyl is so awesome…it's got the perfect amount of adhesive on the back so that it sticks enough to prevent paint from bleeding under but not too much to ruin your surface. I was able to complete this piece with just one coat of Americana Decor Chalky Finish applied with a stippling brush. I'm itching to try out this stencil vinyl with spraypaint!
Once the paint was applied over the entire surface and was still kinda wet, I carefully removed the stencil. This is seriously the best part, look at those gorgeous lines!
So there you have it! Thanks to the easy-to-use Expressions Vinyl's stencil material, this project was so much easier than I thought it was going to be. Turns out making XL Vinyl Stencils is easier than I thought! Come back on Monday to see exactly what this plywood panel is transformed to!