Growing up in Austin, my parents, two sisters, and I would often drive the 10 hours to El Paso, Texas to celebrate holidays with the huge amount of extended family that lived there. We grew up with gorditas that dripped down your chin with every bite, tamarido candy that was both sweet and spicy at the same time, and, of course, the buttery goodness of Elote en Vaso.
In case your Spanish 101 is rusty, Elote en Vaso translates to "Corn in a Cup" which doesn't even come close to describing how delicious this street food staple truly is! I'm now raising two small children in El Paso and while I'll always love the original, I needed to come up with a Healthier Elote en Vaso that would come together quickly and still make mouths drool!


Street Food Love
Back to Elote en Vaso…while there is a good amount of variety based on region and personal preference, the traditional version I grew up with was made with Cotija (a salty cheese similar to Parmesan), Crema Mexicana (Mexican version of French crème fraiche), tons of butter, chili powder, and lime. It seriously is heaven on Earth in a Styrofoam cup! Unfortunately, while I'm ok with ordering Elote en Vaso at the occasional festival, it's not something I'm comfortable with my boys eating every day. At least not without some substitutions!
Healthier Substitutions
Decreasing the butter in this recipe is one thing but completely omitting the Cotija or cream would be a travesty in my book! Substituting greek yogurt for the Crema Mexicana was an easy step since we already use in in place of sour cream anyway. I added a little bit of water, lime juice, and salt to match the consistency and enhance the flavor.
The Cotija cheese was a whole other matter! I considered just not adding any cheese (which still would have been good) but then thought "what if I could add another vegetable to the mix?" Using nutritional yeast flavored cauliflower crumbles gives this dish that salty element while giving you an added nutritional boost! Win/win if you ask me.
Make Your Own
You can mix all the ingredients together before hand or, my personal favorite, set them out and allow each guest to mix their own "vaso!" You'll find that usually people love one ingredient more than others so everyone is happier when they can mix their own. Plus, it's less work for you!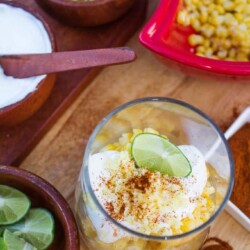 Healthier Elote en Vaso (Corn in a Cup)
A healthier take on the street food staple, Elote en Vaso! Easy to customize to make vegan.
Print
Pin
Share on Facebook
Supplies:
Corn
1 16

oz

bag of frozen corn

2

tbsp

butter

or vegan substitute
Cauliflower "Cotija"
2

cups

cauliflower crumbles

2

tbsp

nutritional yeast

1

tsp

lemon juice

½

tsp

salt
Lime Yogurt Crema
1

cup

greek yogurt

or vegan substitute

½

lime

juiced

½

tsp

salt
Instructions
Following the instructions, cook and drain the corn. Add butter, mix, and allow to melt completely. Place in a covered serving dish until ready.

Place the cauliflower, nutritional yeast, lemon juice, and salt in a food processor and pulse until you have the consistency of fine crumbles. If you mixture is too liquidy, you can squeeze the "cotija" through cheesecloth to remove some of the moisture.

Stir lime juice and salt into the greek yogurt to make the "crema." Add a 1/2 tsp of water if the consistency is too thick.

To serve, place all ingredients in separate containers and allow your guests to create their own cups. ¡Buen Provecho!
So, there you have it…a Healthier Elote en Vaso that tastes delicious and super easy to make! I gotta tell you that after I finished photographing these pictures my boys were on me like flies to a picnic. It seems like they enjoyed preparing their cups almost as much as the flavor! My mom spirit animal seriously soared as they heaped spoonfuls of the "Cotija" into their cups. While I would never insist that my Healthier Elote en Vaso could replace the tradition street food (let's not be crazy!), it's a wonderful day-to-day alternative to one of my favorite comfort foods. Hope you and your family enjoy it as much as mine did!