This Ginger Detox Bath Soak recipe may contain affiliate links for your convenience and to assist in the maintenance of this site.
Anybody else out there counting down the days to Spring? The weather starts warming up (at least in Texas!) and it's inevitable that I start dreaming of beautiful gardens, sweet baby birds, and little kids running around in linen.
Unfortunately, while I'm ready for Winter to be done, the cold/flu season isn't quite done with us yet. The second I start to feel under the weather, I whip up this Ginger Detox Bath Soak and combined with a good night's rest, I usually feel 10x better in the morning!
The ingredients for the Ginger Detox Bath Soak are ridiculously easy and you probably have them in your kitchen right now. This recipe does call for a good amount of ginger so make sure to stock up whenever you find it on sale!
When possible, I like to use organic ground ginger but it's not easy to find so I often do without. I know I can usually find it at specialty grocery stores or World Market (oh darn, an excuse to go to World Market!)
Also, spend a little extra and buy raw and organic apple cider vinegar. I'm a big fan of Bragg's but any ACV that still contains "the mother" (wonderful enzymes that are naturally created during the fermentation process and usually settle at the bottom of the bottle) would work.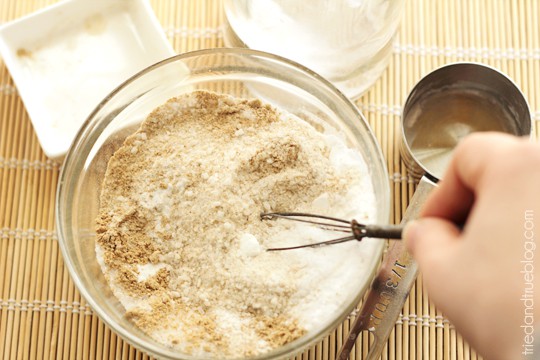 Ginger Detox Bath Soak
1/3 cup epsom salt
1/3 cup sea salt
1/3 cup baking soda
3 tbsp ground ginger
1 cup apple cider vinegar
Mix together dry ingredients and pour into a comfortably hot running bath with the 1 cup of apple cider vinegar.
Try to soak for at least 45 minutes (or for as long as you can keep the kids at bay!) before rinsing off completely. Rehydrate with water before, during, and after since you will be sweating tons! This soak will make you quite tired so if possible, go to sleep immediately after. The extra sleep will help your body fight off the cold and hopefully you'll wake up feeling much better!
Disclosure: I am not a medical professional nor do I condone using the internet as a substitute for medical advice. Do not take hot or salt baths if you are hypertensive, pregnant, diabetic, or if you have a history of heart disease. If you are unsure, ask your doctor first. (adapted from here)