I'll never forget the day that I explained to my husband that there are specific symbols on clothing tags that explain how to wash and dry that item. It was like the clouds parted and a bright ray of sunshine entered his mind, he was that amazed! Of course, after the excitement over learning about this secret code passed, he was a bit overwhelmed with the amount of different symbols there actually were. That's why I created this Farmhouse Laundry Room Sign! It helps my husband remember what some of the more widely used symbols mean while adding a bit of farmhouse chic to my laundry room. Total win/win!
Of course, I have to remember that no one just wakes up one day and knows everything about laundering. I had my fair share of pink-tinted white t-shirts in college when I suddenly had to cover all my laundry needs on my own. I totally wish I had Tide® PODS™ Plus Downy® back then when I was trying to conserve money with large loads of laundry. I could have just thrown two PODS in first, added my clothes, and set the washer to go! My laundry would have been cleaned and conditioned all in one step and since Tide® PODS™ Plus Downy® works with both HE and standard washing machines, it wouldn't have mattered which washing machine was available in the college laundry room. There are some things I miss about college but communal laundering is not one of them!
Eventually I learned that in addition to having the right laundry detergent, it's imperative that I also read the instructions on the back of the clothing tags. Which leads me to my present situation with my husband. Don't get me wrong, I'm totally not complaining because he honestly does the majority of the laundry around here but knowing how to care for clothing is an essential part of the chore. (Don't forget to keep out of reach from children!) You won't believe how easy it is to make this Farmhouse Laundry Room Sign (a.k.a. cheat sheet) and how great it'll look hanging next to your washing machine!
Farmhouse Laundry Room Sign
Supplies:
Slate Board with Frame
White Graphite Paper
White Chalk Paint
Coarse Sandpaper
Step 1. Print and trim the Free "Laundry Symbols" PDF File and graphite paper to fit on your slate board. Layer the printable over the graphite paper (chalky side down) and tape to hold in place.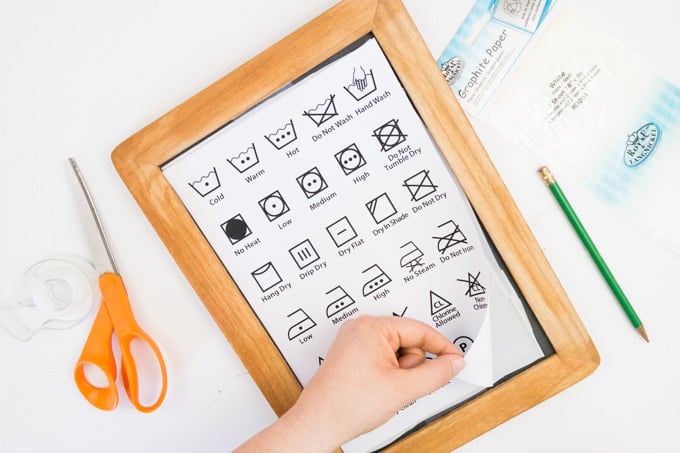 Step 2. Using a ball point pen or dull pencil, trace over the free file. The thicker the pencil or pen tip is, the clearer the "chalk" image will be. Remember, we're going for a farmhouse chic, handmade look here so don't worry too much if your lines aren't perfect!
Step 3. Paint the wood trim with chalky finish white paint. This step is optional and is totally based on taste. I liked the fresh look of a white border but you're more than welcome to keep with the natural wood color. Don't forget to use a bit of tape on the slate to protect your artwork!
Step 4. Take your coarse sandpaper and distress the edges of the frame to complete your Farmhouse Laundry Room Sign. If you're worried about wear and tear, you can always apply a layer of clear spray varnish to protect the "chalk" images.
So, whether you or your significant other needs a little help in the laundry room symbols area or you just want a pretty piece of art to look at while completing a chore, this Farmhouse Laundry Room Sign is the perfect answer to your needs!
I'm sharing #Tide in my life as part of a Tide sponsored series for Socialstars™