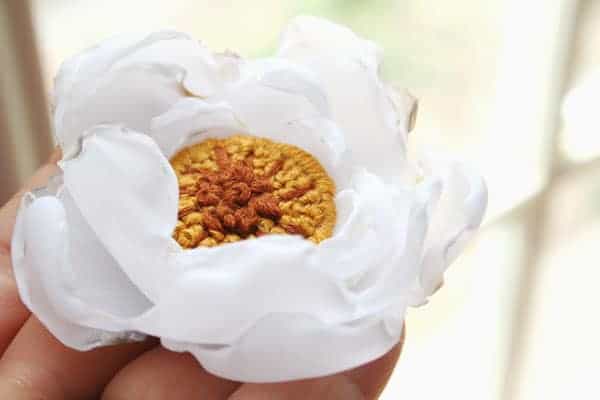 Nothing like a pretty little fabric flower to say to the world, "I'm so ready for Spring!" Lucky for us, Mrs. Priss has got the perfect tutorial for such a flower. I must warn you, however, that she makes it look much easier than it is. I had to cut and burn 5X the amount of petals pictured here before I got some that worked together. And still, I ended up burning the edges of most of mine! I don't mind the burned edges much, kinda adds a shabby chic look to the flower, but not everyone will feel this way.
As for the center of the flower, I didn't have any pretty buttons or rhinestones so I improvised with french knots on a piece of felt. I like how it looks and feels three dimensional. A bit time consuming, yes, but I really like the end result. I sewed a small loop of felt to the back so that I could switch between a hair clip and a sweater pin. I'm so fickle when it comes to accessories, I like to keep my options open.
So, I would definitely recommend you give this tutorial a shot and if things don't turn out the way you want them to, keep in mind, you can always buy one from Mrs. Priss herself!