I'm sharing my Healthy Chocolate Mousse featuring BROOKSIDE Crunchy Clusters as part of a sponsored post for Socialstars #DISCOVERBROOKSIDE
I love the idea of slaving over a complex recipe for hours with a glass of wine in one hand and classical music in the background but that's just not my reality. More often than not, I'm rushing around at the last minute, trying to whip up a fun (and healthy!) dessert while my boys bounce off the wall acting like monkeys. If you can relate to my fun but crazy, you're going to love that this Healthy Chocolate Mousse Recipe is done within minutes!
Ridiculously Easy
The secret to this recipe is refrigerating a can of coconut milk overnight. I usually keep one or two cans in there all the time just so I can have the hardened cream on hand for recipes like this. Once it's been refrigerated long enough, the cream will separate from the coconut water and rise to the top. Just scoop it out and save the excess water for smoothies! Add the cocoa powder, honey, and coconut cream to bowl and mix until thickened. That's it? Yup, that's it. As my son would say, "easy peasy, lemon squeezy!"
Ready to Go
You can, of course, eat this recipe plain (I dare you to try and resist dipping your finger in for a taste or two straight out of the bowl!) or serve it with some extra yumminess. I made an Berry Easy Drizzle (hah, see what I did there?) with some defrosted berries in a blender with a little bit of maple syrup and then added a few BROOKSIDE Crunchy Clusters on top. The clusters' blend of crispy multigrains, fruit-flavored centers and smooth dark chocolate were the perfect compliment to the rich mousse. I love having a little crunch to my dessert! Keep in the know with the BROOKSIDE Facebook page.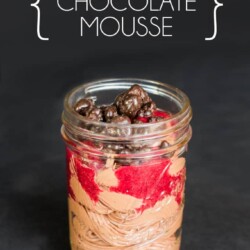 Supplies:
1

can coconut milk

preferably organic

3

tablespoons

cocoa powder

2

tablespoons

raw honey

optional 1 cup berries (thawed/frozen or fresh)

optional 1 tablespoon maple syrup

optional BROOKSIDE Crunchy Clusters
Instructions
Refrigerate the can of coconut milk overnight until the cream and water separate.

Scoop coconut cream into a mixing bowl with cocoa powder and raw honey.

Mix until thickened.

Optional: Blend berries with maple syrup until you have a thick sauce.

Use a frosting bag to pipe out the mousse onto Chinese soup spoons. Drizzle with berry sauce and top with a few BROOKSIDE Crunchy Clusters
Deliciously Healthy
You're going to be shocked that this Healthy Chocolate Mousse is only made with three ingredients and that it's actually delicious and good for you! The coconut milk gives you some great fatty acids, the raw honey gives you intact nutrients, and the cocoa powder is full of healthy minerals. Hope you enjoy!