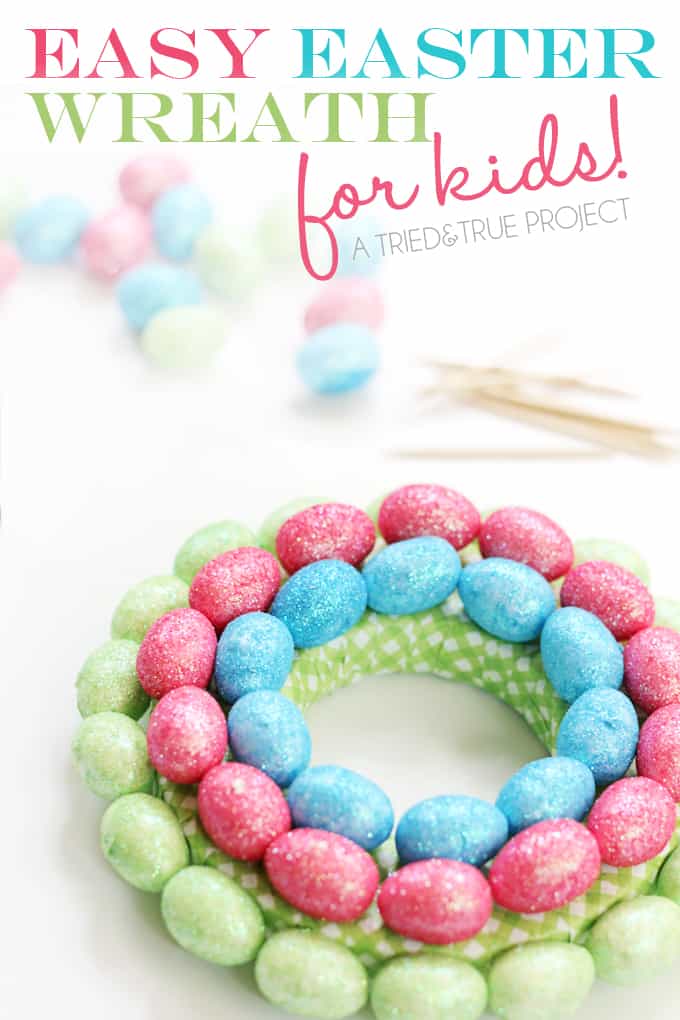 As a craft blogger and mother, I love it when I'm able to mix those two worlds into a fun project for my kids! These Easy Easter Egg Wreaths are not only simple to make but are also full of great educational and developmental moments you can share with your children. I'll highlight some of the benefits in each of the steps below.
Also, I got all of my supplies at The Dollar Tree (scooooore!) but you can also find them at other local stores or online. This post may contain affiliate links for your convenience and to assist in the maintenance of this site.
Easy Easter Egg Wreath for Kids
Materials:
Instructions:
1. Use a cookie cutter or lid to cut a circle in the 6″ styrofoam disc. I let my five year old son do this part to help work on his spacial skills. Making sure the circle is in the middle of the disc is harder than it seems but don't worry if your wreath is slightly wonky, the washi tape and eggs are good at hiding it!
2. Encircle the wreath with the washi tape. This step is kinda optional since you can make the project without the tape but it helps prevent the wreath form from falling apart if too many eggs are put in. It's also a great hand-over-hand exercise for kids!
3. Depending on their age, have your children break the toothpicks in half and insert them into the eggs. Knowing where to split the toothpicks is another great spacial exercise while pushing the picks into the foam eggs provides a good amount of muscle resistance.
4. Now the fun part…have your child design the wreath with the glitter eggs! If he or she is old enough, you can work on pattern recognition at this step. My almost three year old was only interested in sticking as many eggs as possible on the wreath but my five year old was all about patterns. We were able to go over the idea that patterns only happen after repetition of the different colored eggs and the difference between the ABCABC and AABBCC patterns. It was awesome to see him so challenged and engaged!
I hope you and your kids have a great time making these Easy Easter Egg Wreaths! Don't forget you can get most (if not all!) of the supplies at Dollar Tree.