When Linda of Craftaholics Anonymous asked if I wanted to participate in a Silhouette Summer Challenge well, how could I say "no?" I love a good crafty adventure and I'm crazy about all things Silhouette! We were sent an awesome box of random Silhouette materials, told we had to make something within the "Summer" theme, and then let loose. How much fun is that?! (scroll down to win your own Silhouette Summer Challenge box of goodies!)
In the box of random Silhouette supplies I received a roll of stencil making plastic and few of their beautiful Washi Tape sheets. The stencil plastic is really thick and sturdy and would be perfect to use as intended but I had different plans…a Butterfly Necklace! To make your own, you're going to want to cut (2) 4″x2.5″ pieces from the stencil plastic and (1) from the washi tape sheet. Apply tape to the back of one of your stencil plastic pieces. Leave the other plastic piece with the protective backing intact.
Stick both pieces onto a cutting mat (I had to use tape along the edges to make sure the plastic didn't pull up) and cut using my Butterfly Necklace Free Silhouette File. Of course, you can use this method to cut out any animal or shape you desire. Go crazy! I used the "Stencil Material" settings but upped my blade to 5. Definitely do a test cut to make sure the machine is cutting through the thick plastic. Once shape has been cut, weed out the excess pieces, remove the protective backing from the untouched stencil plastic and stick together!
Attach the appropriate jewelry findings and you're done!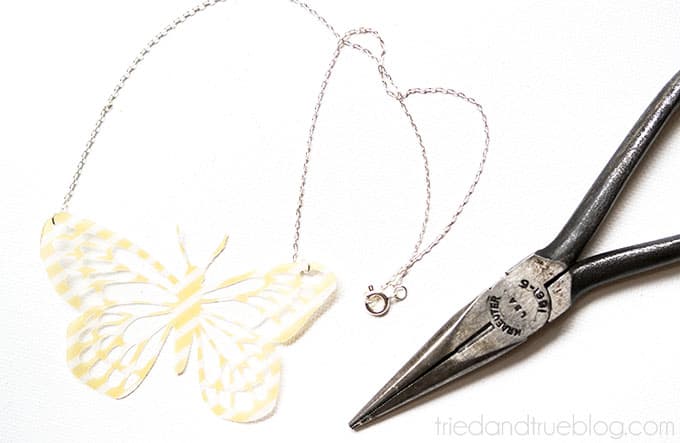 Once the two pieces of plastic are together, you'll be surprised how thick, sturdy, and incredibly light this Butterfly Necklace is. The options on customizing this are almost endless when you factor in all the different types of washi tape that exists in this world!
Curious about what you would make with your own Silhouette Summer Challenge surprise box?
Scroll down for the links to each tutorial and vote for your favorite! Then enter the giveaway for your own Silhouette Challenge box at the bottom!
Silhouette Challenge Box Giveaway a Rafflecopter giveaway