This is a sponsored campaign with Mums the Word Network and World Market .
All opinions are my own.
Is your house crazy about the World Cup right now? We are by far not the biggest fans of watching sports but it's hard not to be swept up by the soccer frenzy right now! Six years ago, my husband and I vacationed in Costa Rica so in addition to rooting for the US and Mexico teams, we make sure to cheer on our favorite Ticos as well! It really is such a beautiful country with generous people, gorgeous landscapes, and delicious food. We seriously fell in love with everything about Costa Rica!
While we enjoyed all aspects of Costa Rican cuisine, their widespread use of chayote and plantains totally rocked our boat (which is a funny since I actually busted my tailbone in Costa Rica while falling down a flight of stairs on a rocking boat.) Both plantains and chayote are somewhat unusual but still relatively easy to find in a well-stocked grocery store or specialty market. Plantains are like the starchy cousins of bananas and chayote is a member of the gourd family that has a squash like texture and taste. Both of them work perfectly as appetizers for Chayote Guacamole Plantain Cups!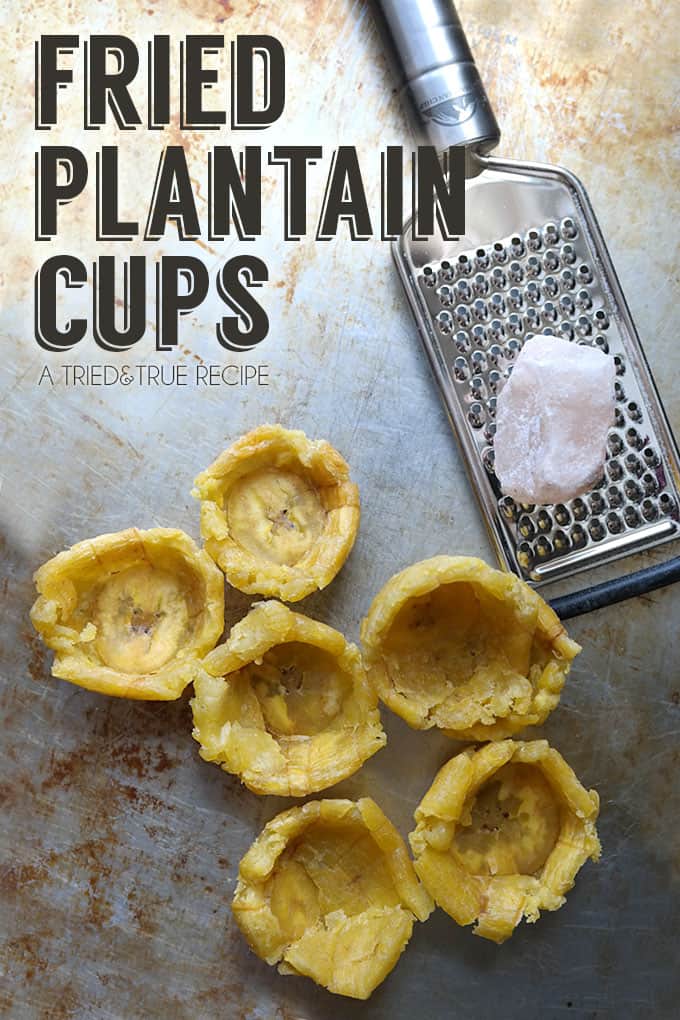 Making the plantain cups (tostones) is relatively easy but there are a few hints that will totally help. First of all, you want to pick the greenest, least ripe plantains you can find. Ripe plantains have a sweetness to them that is perfect for fried chips seasoned with cinnamon and honey but for this recipe you want them to be more starch and less sugar.
Make a long vertical slice down the plantain and peel to reveal the fruit. Slice into 1″ sections and deep fry on medium heat a few at a time for about 8 minutes in oil. I used Island Essentials Organic Coconut Oil from World Market, my go-to place for international food ingredients (love their Indian food section!) The mild coconut flavor works great with this recipe!
After frying, remove plantains and sandwich flat between two plates. If they don't flatten nicely and instead crumble, you didn't cook them long enough! Eight minutes was the magic number for me but you may have to play with the time and temperature if the first one doesn't work.
After flattening, immediately push flat plantains into into a miniature cupcake tin to shape into cups. Don't worry too much if some of the sections crumble, just smush them back together!
After all the plantains have been fried, flattened, and shaped, allow them to cool slightly before frying them in coconut oil again for a few minutes. Remove and place on a plate with a few paper towels to absorb some of the oil. Season by using World Market's Himalayan Pink Salt and Grater. Ok, that part is optional and you could totally use any salt you have on hand but you won't feel nearly as fancy!
The Chayote Guacamole is super easy to whip up and has a great crunchy texture to it! I had to omit the jalapenos in my version on account of my boys but by all means add it to yours. I usually chop up a few in a separate contain and add them to my own plate. Can't have guacamole without a little bite to it!
After mixing together all the guacamole ingredients (we always use a potato masher!), spoon into the plantain cups and garnish with a sprig of cilantro. These Chayote Guacamole Plantain Cups would be the perfect finger food to serve as you cheer on Costa Rica during their next game on Sunday!
Celebrate the World Cup by uploading a photo or video to Instagram for World Market's #ForTheCup Instagram Contest and you may win one of four $250 gift certificates to World Market! To enter follow @WorldMarket on IG, upload picture displaying team pride, and include the phrase: #ForTheCup @WorldMarket. Contest runs 6/13/2014 – 7/12/2014 and one winner will be chosen each week. Good luck!
Chayote Guacamole Plantain Cups
A great Costa Rican influenced appetizer to serve during the World Cup!
Print
Pin
Rate
Supplies:
For Tostones

2

Plantains

2

Cups

Coconut oil

Salt

For Guacamole

4

Medium Avocados

1

Large Tomato

1

Bunch Cilantro

1

Chayote

1

Onion

2

Jalapenos

optional

Garlic Salt

to taste
Instructions
Tostones (plantain cups)
Peel plantains and slice into 1" portions

Deep fry in coconut oil for about 8 minutes

Remove from oil and sandwich between two plates to flatten. Immediately press in mini cupcake tin to for cup shapes.

Allow to cool slightly and fry again in coconut oil for 2 minutes. Season with salt.
Chayote Guacamole
Chop guacamole ingredients and mix together with a potato masher.

Spoon a small amount of guacamole into each cup.

Serve and enjoy the game!