Is it just me or does it seem like biking is becoming all the rage lately? So many people in my real life and on the internet are dusting off their helmets and jumping on a bike to enjoy a bit of a nature-inspired adrenaline rush. I've always been more of a runner but I've got to tell you, the passion that most bike enthusiast share is infectious!
Hmm, maybe Jim and I should buy each other bikes for our anniversary in a couple months? The traditional gift for the 13th anniversary is lace or textile furs but I think a bike sounds much more exciting.
I'm currently drooling on my computer over the bikes at Adeline Adeline, Linus Bikes, and Public Bikes. C'mon, I'm a craft blogger…you didn't think I'd choose a bike that was anything other than absolutely adorable, right?! (Just for the record, I'm not being paid for those endorsements. I just happen to be crazy in love with their bikes!)
So, for all those bike lovers out there, hope you enjoy these three free printables and maybe someday we'll see you on the bike path! (click on image to download)
If you liked these free printables, you're sure to love all these other
prints available from some of these amazing bloggers!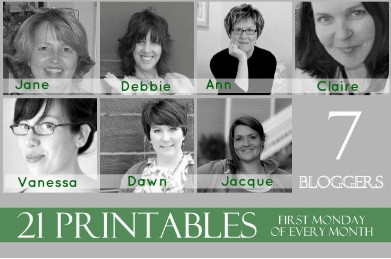 Debbiedoo's /Creative Cain Cabin /On Sutton Place
Cottage at the Crossroads / The DIY Village / a little CLAIREification