I'm going through a bit of a funk right now. You know, perfectly normal but a funk, nonetheless. I'm thinking it's a combination of stretching myself a little thin in the creative department and also wanting to be outside with the boys more lately. I'm not too worried, creativity always comes back, just need to relax a bit and open myself up to inspiration, right?
So, until I'm back to my old crafty self, I thought I would share a fun tutorial from a couple years ago that I forgot to post. Make your own Animal Bean Bags! 50% animal, 50% bean bag, 100% loved by kids!
Animal Bean Bags
Materials
– Wool Felt
– Fabric Stabilizer
– Sewing Machine
– Filler (beads, beans, etc)
– Fiber Stuffing
– free Animal Bean Bag printable!
Instructions
1. Use the free Animal Bean Bag printable to cut out all the shapes. Depending on the type of felt you bought, you may want to add stabilizer to the back of all the squares. I used your basic cheap felt and the bean bags eventually lost their shape. I'm thinking that if you use wool felt, this shouldn't be a problem so go wool. It's prettier and better anyway!
2. Sew around edges of nose, leaving a small opening. Insert a small piece of Polyfil and then sew shut.
3. Top stitch the rest of the nose detail. (Bear: mouth, Pig: nostrils, Elephant: wrinkles)
4. Use french knots to make eyes. Sew the ears on either to the top if you're making the bear or the pig (fold in pig's ears as you sew). Sew Elephant ears to the side.
5. Begin sewing your cube together by stitching two of the squares' sides together, leaving a .25″ allowance on the top and the bottom. Extremely important not to sew to close to the edges! You won't be able to attach the top and bottom square if you do.
6. Finish assembling the entire cube, making sure to leave an opening in one of the sides to add the filler.
7. Use a funnel to add the filler of your choice. (Turns out, lentils make more than good soup!)
8. Fold open edges under and hand sew shut.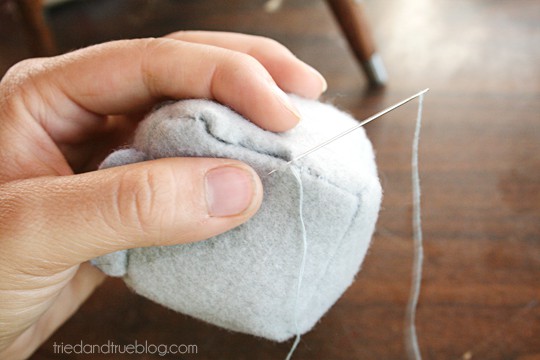 9. Just try to keep your kid away from these long enough to take a picture! Because, while you may think these bean bags are adorable, they think they're absolutely irresistible!
This post contains affiliate links.
Joining these parties:
Project Inspired