This "Always Be Thankful" Gratitude Frame has been hanging on our living room wall for years and we still love it! You can either make the slit on the top of the frame following the instructions in the this tutorial or buy one premade. Either way, you're sure to enjoy it!
A couple years ago I made a Reusable Chalkboard Gratitude Calendar (that we still use during November) but I wanted something that we could leave up all year. So I made this "Always Be Thankful" Gratitude Frame! I'm thinking we'll make it a tradition to write one thing we're thankful for each night and then open the frame up on Thanksgiving Day to relive a year of blessings. How fun would it be to see how our listings change over the year?!

THE PROCESS
Making the Gratitude Frame is pretty easy with the right tools. I used a digital cutting machine to cut out the letters from gold vinyl and stuck them to the inside of a thrifted shadow-box frame. (Make sure you reverse the words!) Cutting a slit in the top of the frame was easy with motorized hand tool but you could also use wood carving tools instead. It would take longer but would work if you don't have a hand held rotary tool available.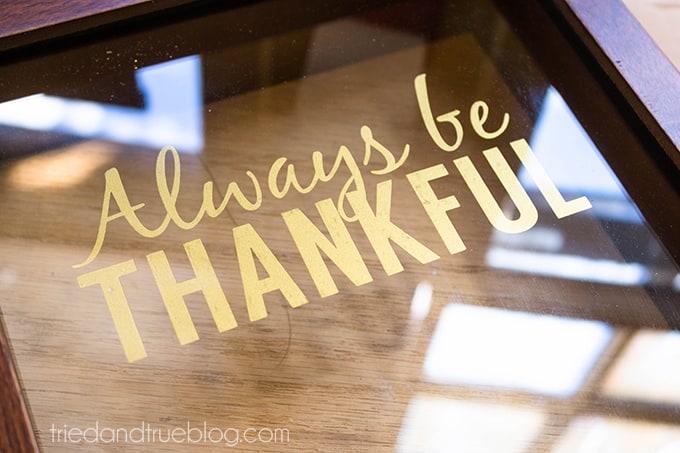 Once the words have been stuck and the slot cut, all that's left to do is decide on a background paper and cut a bunch of small strips to write your blessings on. Choosing the background paper was, seriously, the most time consuming part of this project. With so many pretty scrapbooking papers out there, it was hard to decide!
ALWAYS BE THANKFUL
After each person writes out what they're thankful for, just slip the paper strip into the slot on the top of the frame and now you have a visual representation of your blessings! We've had so a good time using the Gratitude Frame these last few days and have had many a laughs over some of the boys' entries (like "underwear" and dinosaurs). Honestly, though, I don't care what they write down as long as they remember that there is always something to be thankful for. I know I sure can use the reminder!
GRATEFUL FOR YOU
I hope you enjoyed this tutorial and have fun making one for your family. With so much to be thankful for, I'm sure you all will fill your Gratitude Frames in no time. As always, thank you for visiting my little corner of the internet, I so enjoy having you all here!
Here are some more Thanksgiving ideas from some of my favorite bloggers!