We're big fans of tea over here…like ten different loose leaf varieties sitting on our tea shelf at any given time kind of fans. We also enjoy a good cup of joe on occasion (like when a certain little boy doesn't sleep well!) but tea is definitely our beverage of choice.
To celebrate that century-old, elixir of the gods, I'm offering a free printable that you can cut out by hand or with a cutting machine. Because, really. Some days, a cup of tea is all I need. 🙂
Depending on your mood and your tea choice, you can change out the background to completely customize your art. I think this one looks like a Chai Tea kind of morning.
This one is definitely a fun mint Green Tea. One of my absolute favorites!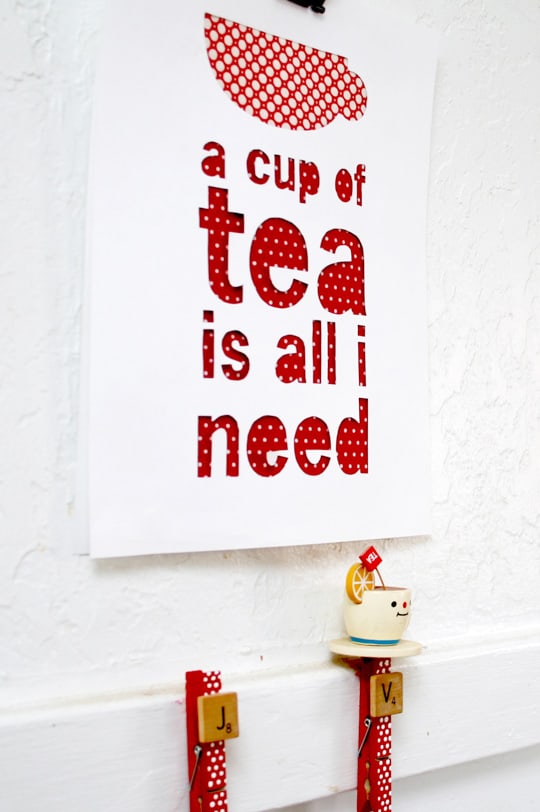 This is how I arranged the original print I made a couple years ago. By the look of it, you can tell we were on a bit of an English Breakfast kick.
So whether you're a fan of Oolong or Matcha, x-acto knife or Silhouette, you can make this art 100% your own! Click on the links for either the pdf version (hand cutting) or Silhouette (machine) file.
So fill your cup with some nice hot tea and have a wonderful day!
This project is a part of The Silhouette Challenge hosted by The Thinking Closet . Stop by each month for a new and exciting free tutorial and studio file. Here are my projects from previous months:
February: Martin Luther King Window Art
March: We're Better Together Card
April: Montessori Sandpaper Letters
May: "Celebrate Differences" Autism Awareness Tee
Check out all the other TSG projects for this month:
Spring Hoop Home Decor – Daily Dwelling
I Heart Labels: Flour & Sugar Jar Edition – The Thinking Closet
Bleeding Heart Card with Free Flower Download – Creative Turn
A Numbers Game – Learning Numbers with Your Preschooler – Lil Mrs. Tori
My First Silhouette Challenge Group Project – Tanya's Creative Space
Personalized Garden Post & Grandma Book (Silhouette Mother's Day Presents) – Whole New Leaf
Girly Superhero Decor – Coley's Corner
"A Cup of Tea" Customizable Art Printable – Tried & True
The Lady in Hat "Thinking of You" Card – An Elegant Touch
This post contains affiliate links. Thank you for supporting Tried & True!
Partying with: From Dream to Reality