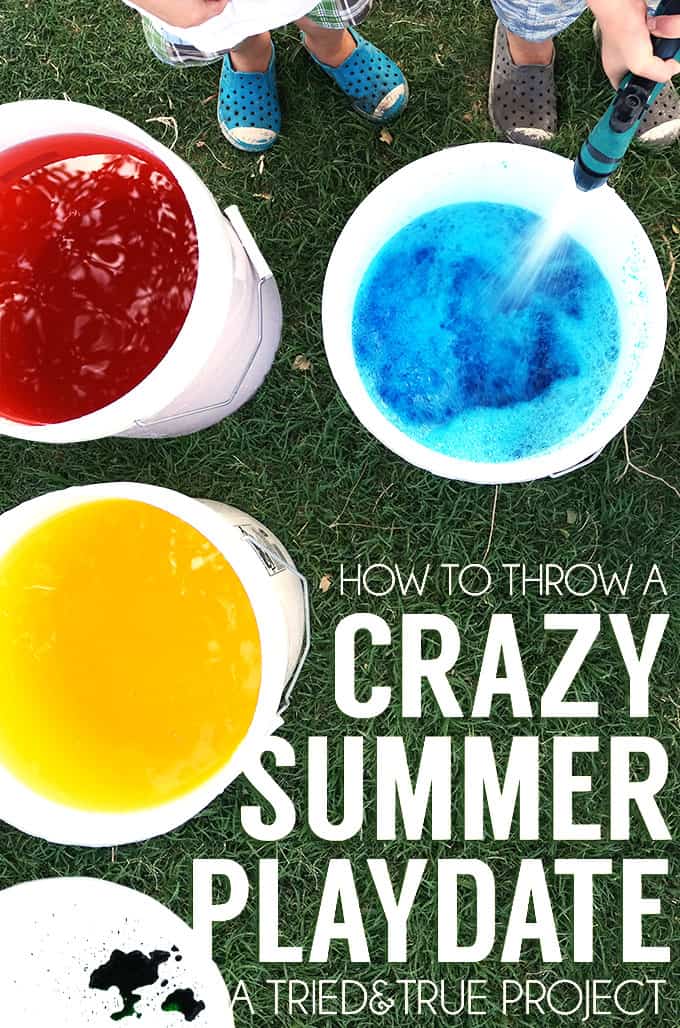 Since this is my first official "Summer Break" since Jack started preschool, I'm definitely still learning the ropes to being a fun Summer mom. Don't get me wrong, letting the kids sleep in late has been awesome (my husband and I actually had a full conversation over breakfast yesterday!) and not having to get in the car so much to pick my son up has it's advantages, but there is definitely a learning curve to having two bickering beautiful boys at home ALL. DAY. LONG.
Two things I've reinstated since having them at home has been 1) Mandatory Quiet Time in Bed (while I lay comatose on the couch) 2) Play Dates (Kids get worn out and I get a free counseling session) and 3) Caffeine (Ok, that was three things instead of two. I told you I need coffee!) We use to do playdates regularly when the boys were smaller but then Jack started school and there were only so many hours in a day. I forgot how great they were for breaking up the monotony of a day at home!
This post is sponsored by Darice but as always, the opinions are 100% my own!
Nothing says Summer like a Water Gun Fight so we thought it'd be fun to host a colorful version with some of the kids' friends. We asked all the guests to wear light colored clothing, emptied entire containers of food dye into four buckets, filled with water, and positioned them at the four corners of our yard. After making sure everyone had a water gun, we let loose the Kraken….um, I mean, kids. Same difference, though!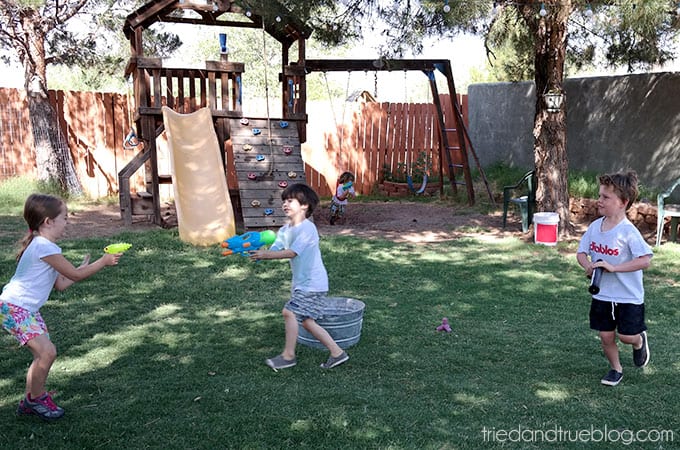 The kids had a blast shooting each other with the different colors and I even heard a few conversations about color combinations and theory. Would they have had fun with just plain water? Absolutely! The dyed water was just a little something extra to make the day different. Definitely let parents know ahead of time, though, since food dye rarely comes out in the wash and the kids' white tops were completely covered in color at the end!
After everyone was done with water play, I brought out a big box of Sock Friends Puppets for them to work on. (Available at Jo-Ann Fabric and Craft Centers, Michaels, Meijer, and other independent retailers.) The kits were great because they contained everything you needed to make the puppets, including adhesive strips and cut-out shapes. This was especially handy since the kids were still slopping wet and everything had to be done outside in the grass.
Most of our kids were a little too young to do it by themselves but could easily have done it if they were a few years older. Some of the kids (and parents) followed the kit exactly while others went a more interpretive route. I was surprised with how engaged the kids were with their puppets. It's been days since we made these and not only are the puppets holding up extremely well but my boys are still actively playing with theirs. That's a miracle in the short attention span world of my kids! (Plus there's a iOS app to reinvigorate interests on a rainy day!)
Check out this video for more information on Sock Friends Puppets from Darice:
Over all I think everyone had a good time, parents got to chat with other parents over coffee and the kids got to run around crazy (which made for a good nap later on!) We won't go all out for every playdate we do but it was a nice way to ring in our first Summer break.
How about you guys? What are your fun Summer playdate ideas?
For another fun project to make with kids, check out this 4th of July Noisemaker tutorial I made for Craftaholics Anonymous: