Hello lovely readers from The Crafting Chicks! I'm so happy to be taking part in their 12 Days of Christmas and hope you enjoyed the Rudolph Christmas Gift I created. If you haven't seen it, make sure to jump over to The Crafting Chicks to see the full tutorial. It's really such an easy and practical gift. I know what I'll be gifting to my son's teachers!
This post may contain affiliate links for your convenience and to assist in the maintenance of this site.
I'm including two different download options so that you can either just print out one card (sized 3.75×5.25) or an entire page of four. For such an inexpensive cute gift, I'm sure you can think of 4 people to give this to! Both sheets include a thin blue outline to show you where to cut.
Also, a few of you asked the specific type of lip balm I used, it was EOS Summer Fruit but EOS Pomegranate Raspberry would work well too. You could even substitute a big red bouncy ball to make this appropriate for kids! (Thanks, Yana, for the idea!)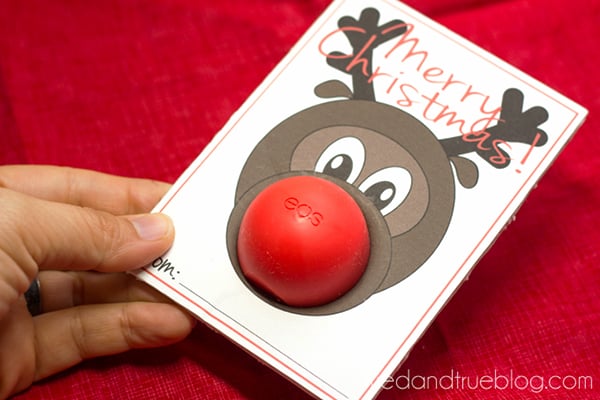 Hope you find this printable useful during the upcoming holiday season and as always, please refrain from using for commercial purposes…or I'll have Rudolph put you on the naughty list! 😀