I've been on the look-out for a Spring basket for Jackson all month and with the exception of a cute robot basket at Target (which my mom snagged before I could), nothing has even come close. When I finally figured out that I should just make a basket, where was the first place I looked for inspiration? My ridiculously large "Future Projects" page, of course, where I reacquainted myself with the adorable Easter basket from disdressed. Fabric boxes have been on my to-do list for a while now and this was the perfect opportunity to try my hand at a tutorial that had been flopping around my head forever.
I don't want to step on any crafty toes so my instructions end where the directions from disdressed begin. Hope you enjoy the tutorial!
If you liked this project, you'll definitely want to check out more Lovely Spring Projects here!
Materials:
– 100% wool sweater, felted (wash & dried)
– lining fabric
– thick interfacing
– 2 buttons
– embroidery supplies
– sewing supplies

1. Make a square for your pattern by folding a piece of heavy card stock (8.5×11) diagonally. Cut off extra paper and unfold.
2. Cut 5 squares from your felted sweater. Repeat with lining fabric and interfacing.
3. Baste sweater squares to interfacing squares. Using interfacing square as guide, trim off excess sweater fabric that may have shifted out of place during the basting.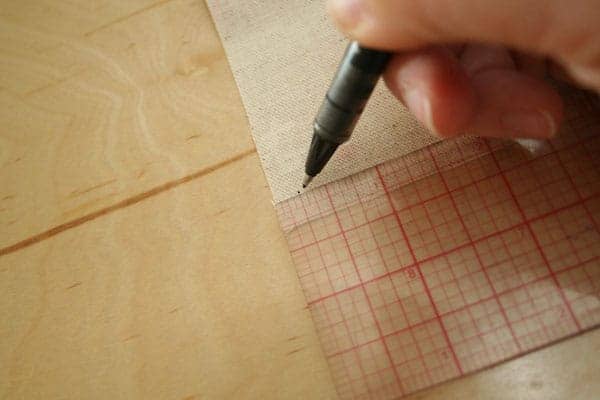 4. Measure and mark 1/4 an inch in from all corners. Don't forget to mark on the wrong side of both the lining and interfacing.
5. Match two squares right sides facing and sew from one marked corner to the next.
6. Repeat until you have four sides of a cube. Don't forget to only sew between the marked dots!
7. Use last square panel to attach the base of the square. This should be relatively easy as long as you didn't sew past the marked corners. Repeat steps 5-7 with sweater/interfacing panels.
8. Sew up sides of felted sweater box to prevent any unraveling from the sweater. Turn sweater box right side out.
9. Sew up handles. These can be any size or length you want. I cut two 9″x4″ pieces of my lining fabric, folded them to the center and then folded again (like bias tape). I also inserted a piece of interfacing in between the folds before I sewed the handles up to make them stand on their own. When your handles are done, attach them to the sides of your sweater box.
10. I embroidered the face and sewed on the buttons next. Jump on over to disdressed for instructions on the face and ears!
11. Place the sweater box inside of the lining (right sides facing). Pin to each other, making sure to try and line up all corner seams. Sew around the top, taking care when sewing machine is going over thick sections (ears, handles, corners.) Using a seam ripper to open a section of the lining, slowly and gently pull the sweater box through. Sew up hole in lining. Press and sew around top of basket.
12. Fill with cute toys and healthy snacks (send me the Reeses instead!) 😀