It's already ridiculously hot over here in Texas and all the kids want to do lately is run through sprinklers and drink ice cold beverages! We try to keep their refined sugar and artificial dyes to a minimum so we do a lot of limeades around here. (Since we always have limes on hand for my Micheladas! :D)
We use to sweeten everything with Agave Nectar but just recently learned how not-so-good it is for you. Goes to show that you can't trust even a bottle labeled "organic" and "all natural!" So we've switched to adding honey or stevia leaves to all of our drinks.
Super easy to use stevia if it's a hot drink, the leaves (which we get from our garden, dehydrate, and grind) can be tossed in while the tea is brewing but that doesn't really work for cold drinks or limeades so what's a girl to do…
Make Stevia Simple Syrup! It's super easy and you can store it in your fridge to sweeten on a whim. All you have to do is cut up 1/4 cup of stevia leaves, add it to 1 cup of almost boiling water (removed from heat), and allow to steep for an hour.
Now you have Stevia Simple Syrup! I usually make a batch and keep it in a mason jar in the fridge. I've used it to sweeten limeades, lemonades, ice tea and even jamaica (hibiscus). I should warn you that it has a bit of an earthy undertone to it but we've all grown to tolerate, if not like, the flavor. What I love most is that it's 100% natural (unlike stevia products in stores!)
To make Naturally Sweetened Limeade, I juice a dozen key limes (about 1 cup of juice) into a pitcher, add 8 cups of water, and begin with 1/2 cup of Stevia Simple Syrup. Add more if you want your limeade to be sweeter. Mix thoroughly and serve over ice on an especially hot day!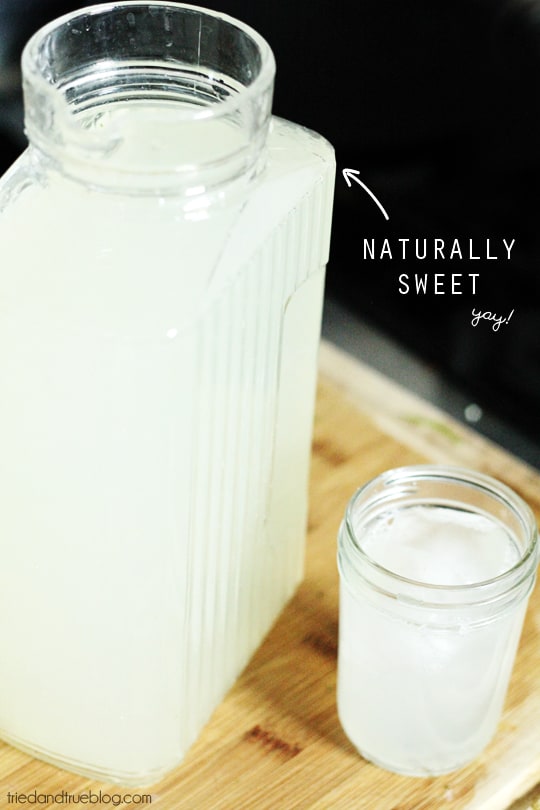 Stay sweet this Summer! 🙂