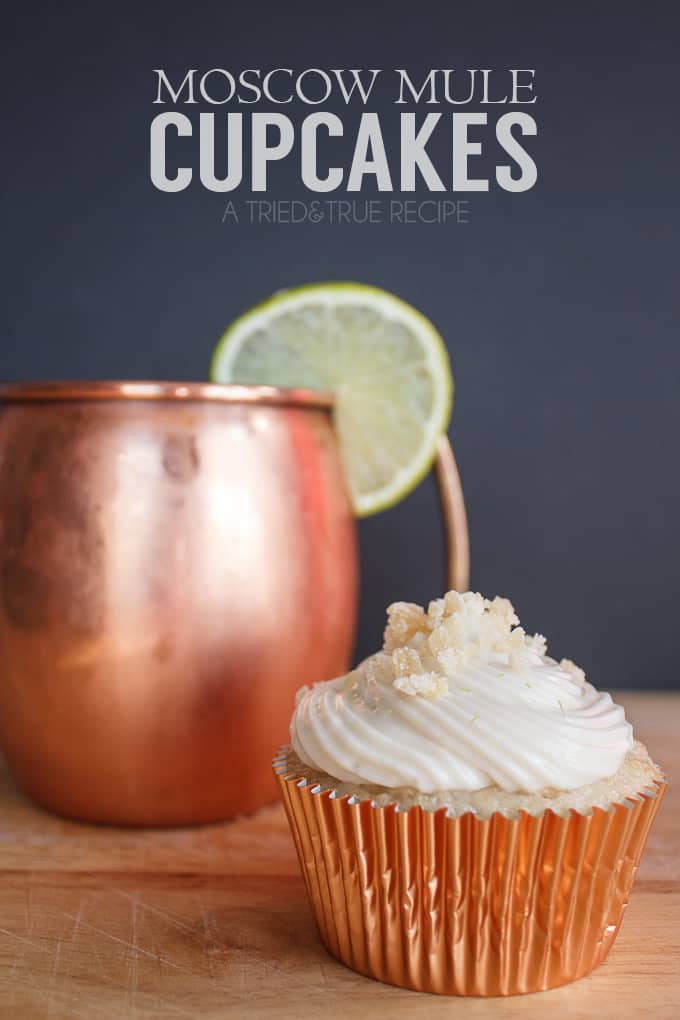 Last year we discovered the amazingness of Moscow Mules when, on a whim, I purchased a few mugs for my husband's Father's Day gift. Paired with a bottle of good vodka, it truly ended up being the gift that kept giving since Moscow Mules became the drink of choice for Summer 2015. I've partnered with Wayfair to take the classic flavors of Moscow Mules and adapt them into a delicious cupcake that could be enjoyed by everyone!
Crazy Easy
A while ago I heard about a cake recipe that substituted soda for all the other ingredients a boxed cake mix usually calls for. No eggs. No oil. Just soda. Kinda crazy right? Since I needed a ginger ale flavored cake for this recipe, I figured there was no time like the present. Turns out it totally works! With the exception of being a little stickier (which could have been a result of the cupcake liners I used too) and not rising as much as the traditional method, my ginger ale cupcakes were moist (anyone else hate that word?!), delicious, and had a wonderfully subtle ginger undertone. Highly suggest giving it a try!
Crazy for Copper
If there's one thing I know about making Moscow Mules, it's that using the copper mugs is a must! It keeps them so nice and cold. Plus, who doesn't like drinking out of something that has a history traced back to the 1940's? Since copper is such an integral part of what makes a Moscow Mule, I ordered these copper cupcake liners online to really drive the nail in the coffin. They are by no means necessary to this recipe but they sure are fun!
Lovely Limes
Truthfully, I'm not the biggest fan of cake. I know that makes absolutely no sense since this is a cupcake recipe but between the cake and the frosting, they're usually too sweet for my taste. (Now french fries…) That's not the case with these Moscow Mule Cupcakes! The ginger and lime flavors totally shine through without being muted by too much sugar. I seriously could eat the frosting by itself and that's not usually my standard MO (unlike my husband!) I used a piping bag and tip to easily decorate the cupcakes for these pictures but spreading with a spatula works just as well!
Blast of Ginger
The finishing touch came in the form of crystallized ginger that I chopped to sprinkle on top of the frosting. This adds a pretty strong shot of ginger so I highly suggest omitting it if you or your guest is not a big fan of ginger. As for me, I'm crazy about it and have heard it has healthy properties so that means I can eat another cupcake. You know, for my health. Win/win!
Moscow Mule Delight
So there you have it, a super easy Moscow Mule Cupcake recipe that can be made with just a few ingredients! It's such a yummy light flavor that would be perfect for the upcoming warm weather. Now people of all ages are able to enjoy the delicious mixture of lime and ginger!
Supplies:
Cake
white cake mix

12

oz.

can of ginger ale
Frosting
8

oz

package cream cheese

2

tbsp

butter

2

tsp

lime juice

Zest of 1 lime

3

cups

powdered sugar

sifted

4

tbsp

crystallized ginger

optional
Instructions
Cake
Pour cake mix into a large bowl.

Add ginger ale and mix.

Fill cupcake liners 3/4 full since they won't rise as much as usual. (I got 18 cupcakes instead of 24)

Bake according to box mix instructions.
Frosting
Add all ingredients into a large bowl and mix with either a hand or stand mixer.

Spread on thoroughly cooled cupcakes. Sprinkle with chopped crystallized ginger and enjoy!
Thank you to Wayfair for letting me join in the Cocktail to Cupcake fun!