This tutorial is sponsored by DecoArt and their new line of Americana Decor Metallics available at Hobby Lobby.
I have to admit something to you guys…my garage is an absolute disaster full of random side tables I couldn't resist buying from garage sales and thrift stores. I mean, really, how many side tables does a family truly need?! That's why, when I got my hands on the new Americana Decor Metallics paints, my first thought was to turn one of them into a Metallic Checkerboard Side Table. Now that I'm totally in love, I may just paint all of the side tables with this awesome Metallics line!
As I mentioned above, all of the side tables I've "collected" (aka "hoarded") in my garage are in pretty rugged shape. The one I'm using for this Metallic Checkerboard Side Table tutorial looked like it was originally an interior piece that was eventually used as an outdoor plant holder. I have suspicions that it may have had bird poop on it at some point as well! Most of the varnish was worn off by the sun but I did have to (according to the instructions found on the packaging) go over the whole thing lightly with some fine sandpaper.
Next step was to create a square template to start marking the placement of my checkerboard. I probably could have just used measurements to calculate perfectly where the squares should have gone but just eyeballing the center with the template seemed infinitely easier. My checkerboard ended up being 10″ x 10″ but depending on the size of the table, yours might be different. After I drew the square in the center (mas o menos), I measured and marked 1.25″ x 1.25″ squares. Whew, now that the math is done, let's start having fun!
I wanted my Metallic Checkerboard Side Table to be somewhat understated so that it could still function as a modern furniture piece when not being used for play. From the large amount of color options (available at Hobby Lobby), I chose the following Decoart colors: Silver, Rose Gold, and Pearl. They come in 8 oz. bottles so you can have plenty to cover even larger furniture projects!
Before starting to apply the paint, make sure you shake the bottles thoroughly to really bring out all those amazing metallic pigments. Working every other square, one color at a time, I began to paint in the squares. I admit, because you're going square by square, this step can be quite tedious and lengthy but take it slow and either meditate or put on a good movie. You'll be done before you know it!
Continue applying paint to all the squares until the checkerboard is complete. Depending on the look you're going for, you may need to add multiple layers of paint. Just make sure to allow each layer to dry before adding another. I think I ended up with four layers to achieve the coverage I wanted. Sounds like a lot but I was totally binge watching a show on Netflix so I kinda lost count!
Once the checkerboard is completed, begin adding paint to all other sections of the table. This Pearl Metallics paint was seriously so gorgeous!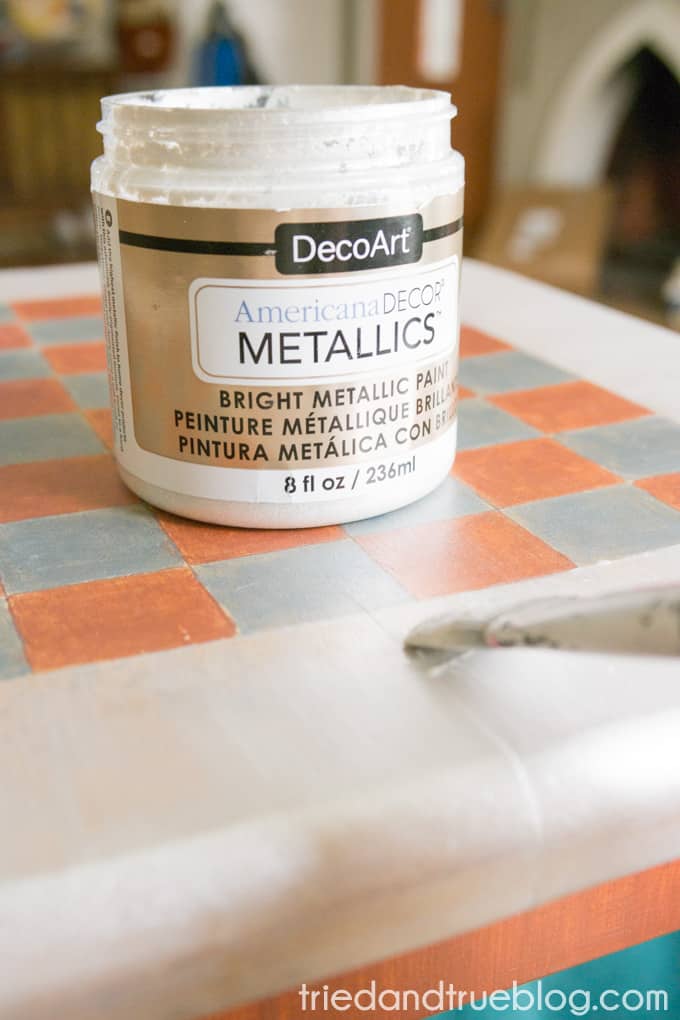 Once everything was painted, I finished the board with a little bit of additional detail drawn with a handy paint pen. A totally optional step but I think it really rounds out the project!
I absolutely adore how this Metallic Checkerboard Side Table Turned out! We'll totally put the game function to good use and when not in play, will look great as a pretty side table. Best thing about this project? I now have one less side table cluttering up my garage! You can check out the awesome Americana Decor Metallics paint at Hobby Lobby. You're going to love it!