(Scroll to the bottom of this post to download your own copy of the "Let It Go" Coloring Print!)
A few weeks ago, I was sent a copy of Amy Doh's latest book, Creative Lettering, and while I enjoy most of their publications, I looooooove this book so much! It's been on my bedside table ever since I received it because I pour over each and every hand-drawn letter before I fall asleep each night. It kinda makes for funky, alphabet-loaded dreams but it's just so much fun to look at.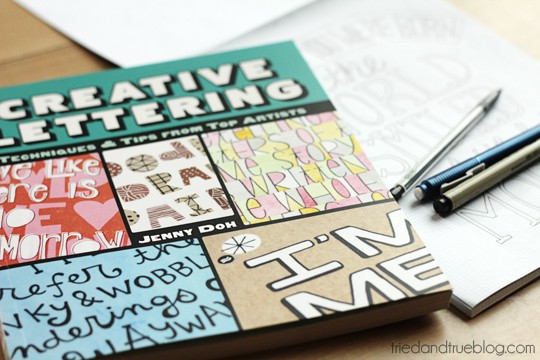 I'm funny when it comes to craft books. I thoroughly enjoy reading them and flipping through all the beautiful pictures but I very rarely read through a craft book more than once. Maybe it's because I don't want to be too influenced by the ideas and begin to think they're my own (I hate it when that happens!).
That's so not the case with this book! It's all about inspiration and becoming a better artist. I loved reading about the different pens and pencils each of the artist enjoys using. I'm a mechanical pencil/Pigma Micron 01 kind of girl. As for my favorite letter…hmm, I'm still on the fence on that one. Maybe "A?"
Each of the artists featured by Jenny Doh also share one of their original alphabets which are all just amazing. One of my favorites is Lighthearted Gothic from Madeline Tompkins. Makes me want to break out my calligraphy set!
Inspired by Creative Lettering, I thought it might be fun to show you guys how one of my Coloring Prints starts off. You can see that my "Let It Go" print started as just a small image I penciled onto gridded paper. After I was happy with the letter and image placement, I went over the pencil with a thin-tipped pen (Pigma Micron 01) and carefully erased all the pencil markings.
I then  scanned the image into my computer (with my phone!), cleaned up the lines a bit in Photoshop and adjusted anything that just doesn't look right. If you look closely you can see I decided to change the "J" from lower case to upper case. Can't give you the theory behind why I did that…just didn't look right, you know?
Then I just format the page to the desired size and upload it to the world wide web. All you have to do is print out the PDF file and color it any way you'd like! I used my Spectrum Noir markers again because of the paper I used. If you've seen some of my other Coloring Prints, you know I usually print out my images on heavy-textured watercolor paper but I decided to change things up a bit and go with vellum paper this time. Seemed to worked nicely with the airy feel of this print. What do you think?
Want to win your own copy of Creative Lettering? Just enter below and soon you'll be having lovely dreams of hand-lettered alphabets!
You can follow this link to download your own copy or just click on the image: "Let It Go" Coloring Print – A Tried & True Print
Enjoy!
Disclosure: I received a copy of Creative Lettering to review and giveaway. All the opinions mentioned above are entirely my own.
Partying with:
Tatertots and Jello