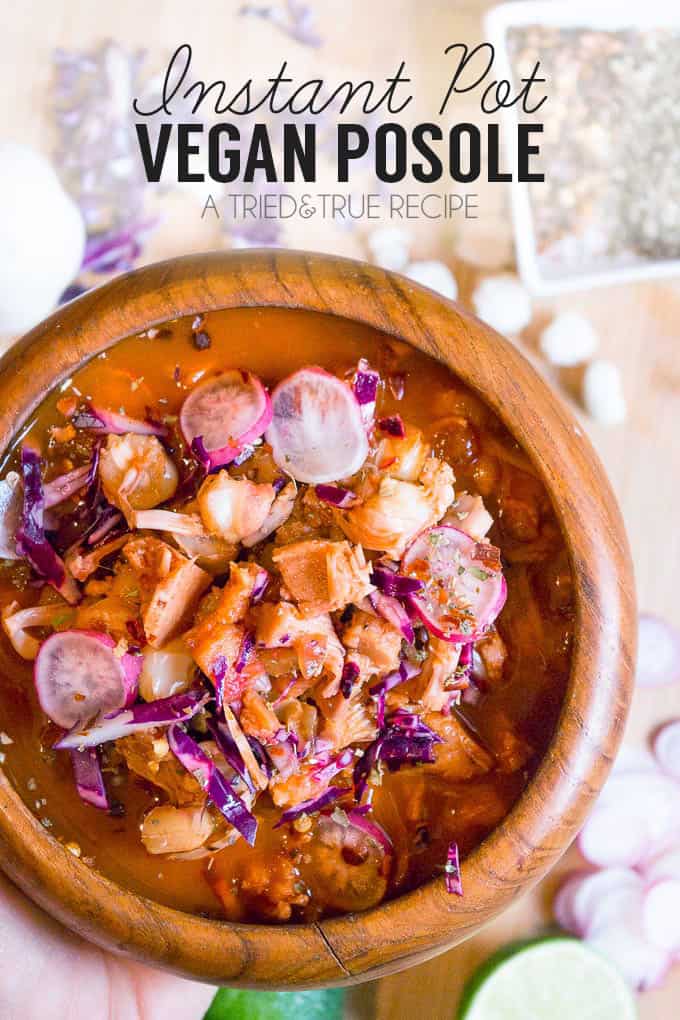 I've been vegetarian for about 15 years now and there are few things I miss quite so much as menudo or posole. If you haven't had the privileged of tasting either, definitely plan on running to your local Mexican food restaurant for breakfast this weekend. Seriously, sooooo good and if you happen to have a hangover…even better! Lucky for me, this Instant Pot Vegan Posole recipe is easy to make, animal-friendly, and tastes just as good as the real thing. Let's get started!
Animal Friendly Posole
Traditional posole is made with pork so it made perfect sense to substitute the awesomeness of jackfruit for this recipe. If you aren't familiar with jackfruit, it's an amazing plant-based substitute for anything that resembles shredded meat. You can find the whole fruit available in many Asian grocery stores. Since they can weigh up to 80 lbs, I found the canned version to be much easier to work with. Just make sure you get "jackfruit in brine" and not "in syrup" or it'll be candy sweet. Gotta tell you, the jackfruit looked so much like meat, it kinda creeped me out!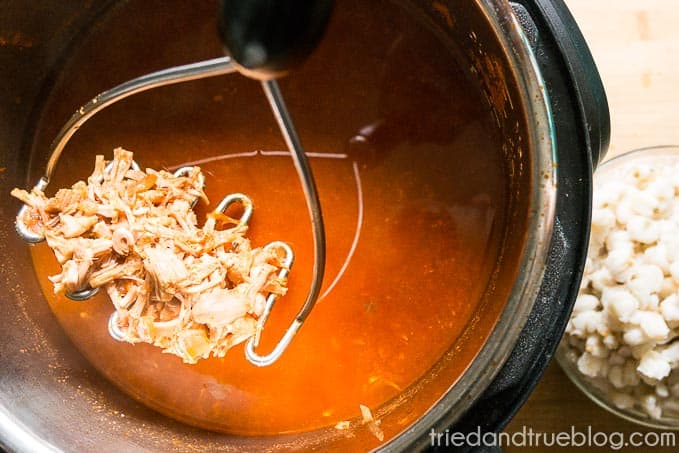 Love My Instant Pot!
The Instant Pot is my new favorite kitchen appliance. I totally purchased one of my own after seeing so many people talk about it! It was perfect to make this vegan posole because it seems like we're always running short on time before dinner. It's my "fast slow cooker" because it has all the convenience of slow cooking but does it much faster. Seriously, I'm totally in love with my Instant Pot!!! If you're more prepared than I am, you could always alter this recipe to use on a slow cooker function. (which the Instant Pot also has!) Simply wait to add the hominy and jackfruit until the very end. I actually adapted this recipe from one my best friend gave me a few years ago. She used a slow cooker so I can guarantee that it'll still be super easy and delicious!
My favorite part about cooking this in my Instant Pot is that I can saute and cook everything all in one pot. I just set it to saute, add a tablespoon of oil and throw in my onions and garlic for a few minutes before adding the sauce, jackfruit, and broth. Less things my husband has to clean after dinner!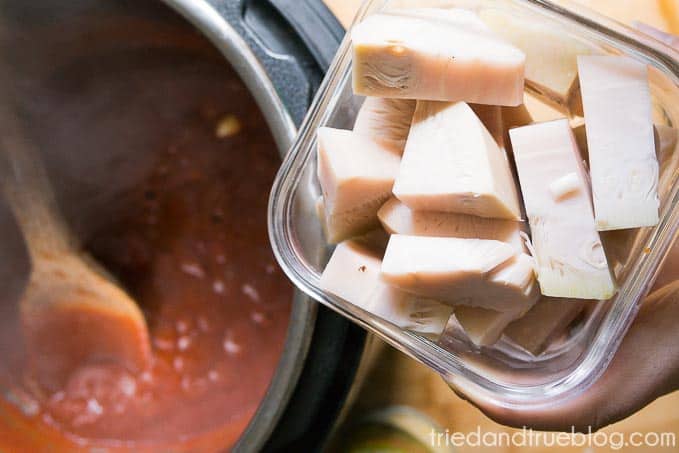 So Easy to Make!
Once you've sauteed the ingredients, just add broth, secure lid, and set to cook on "manual" for 10 minutes. After the timer beeps, let the natural pressure release or if you're impatient (like me!), give it 20 minutes and then flip the pressure valve to release sooner. Add hominy and repeat above steps, cooking for 1 minute and allowing for pressure release. Once the posole has cooled down a bit, you can season with salt to taste.
Everyone I know is really particular with how they like their posole fixed. I'm partial to just the juice of half a lime and oregano but some like to include shredded cabbage, red pepper flakes, cilantro, or thinly sliced radishes. The choice is totally up to you, there's no right or wrong way to fix this Instant Pot Vegan Posole! Hope you enjoy!
Supplies:
1 14

oz.

container of red chile puree

or google how to make your own

2 25

oz.

cans hominy

1

medium onion

8

garlic cloves

1

tbsp

oil

suitable for high temps

2 20

oz

cans of jackfruit

6

cups

vegetable broth

garnishes

see below
Instructions
Set Instant Pot to saute. Add oil, onions, and garlic and saute for 5 minutes.

Add red chile puree and continue to cook for a minute.

Add jackfruit and cook for 2 more minutes.

Use a potato masher to break up the jackfruit and then add 6 cups of broth.

Secure lid, set Instant Pot to "Manual" (and "High Pressure") and enter 10 minutes to cook.

Allow for natural pressure release (or if you're impatient, wait 20 minutes and then release additional pressure with valve.)

Remove lid, add hominy, and set to cook on manual for 1 minute.

Allow for natural pressure release (or if you're impatient, wait 20 minutes and then release additional pressure with valve.) Season with salt to taste.

Garnishes are completely up to your personal preference but can include lime juice, oregano, red pepper flakes, cilantro, shredded cabbage, and thinly sliced radishes.

If you liked this recipe, here are some others you may enjoy:
I'd love to see how you customize this project so make sure you tag me on my social media accounts!
Instagram | Facebook | Pinterest