I created this "Happy Spring" Framed Vase as a member of Lifestyle Studios. Feel free to use my super secret code, "TRIEDTRUE" for 20% off any purchase at the We R Memory Keepers/Lifestyle store! This post may contain affiliate links for your convenience and to assist in the maintenance of this site.
Spring is just around the corner and for some reason, I can't wait to start decorating for it this year! I just realized the other day that I don't have a lot of flower crafts and I'm not too sure why. I love flowers as much as the next person but I guess I've been so focused on growing vegetables with the kids that I kinda overlooked the importance and beauty of flowers. I made this "Happy Spring" Framed Vase to remind me to go pick some flowers!
I love this project because it has an infinite amount of customizable options! Don't like the chalkboard look? (Blasphemy!) You can use any frame that has a stable enough backing. Not into the chevron washi tape? (I don't believe it!) Leave the frame plain or paint it by hand. Don't have an extra Ball jar around? (No way!) Just use any you happen to find in your recycling bin. See what I mean? You can make your framed vase match any Spring decor!
"Happy Spring" Framed Vase
Materials:
– 7×10 Blank Chalkboard
– Extra Fine Permanent Marker
– White Transfer Paper
– 12 Gauge Craft Wire
– Chevron Washi Tape (Apricot)
– Ball Half-Pint Jar
Instructions:
1. Print out what you want to transfer onto the frame. You can use my "Happy Spring!" free printable or make up one of your own! Transfer onto chalkboard by tracing over the letters with a piece of graphite paper underneath.
2. Use the fine point permanent marker to trace the letters. Allow to dry completely.
3. Mark and drill two small holes where you want your vase to be. Wrap a piece of the wire around the lip of jar and insert into the drilled holes. Twist the wires together on the back.
4. Apply the super cute Chevron Washi Tape to the edge of the frame. (You can use the code "TRIEDTRUE" for 20% off everything in the We R Memory Keepers/Lifestyle Store!)
All that's left to do is fill the jar with some beautiful flowers from your garden! Come on, Spring, work your magic!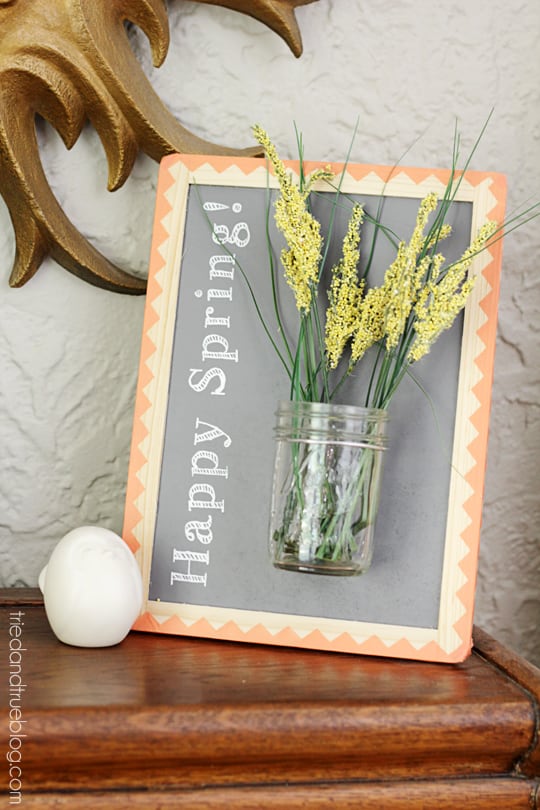 Want more fun Spring projects? Check out these other T&T tutorials: Peep Wreath, Chalkboard Planters, "Some Bunny Loves You" Door Hanger, Recycled Bunny Basket, and Recycled May Day Baskets.